There's no getting away from it, Christmas is coming and the whole county is busy working on its mission to get everyone into the Christmas spirit.  Devon has a wonderful selection of festive offerings and 'meet Santa' experiences, full of magical wonder and excitement that are sure to add to the anticipation and build up to the big day.
Finding Santa across Devon will be easy; he'll be busy visiting the top attractions, meeting the children and helping to put an extra sparkle into that pre-Christmas obligatory Father Christmas visit. Enjoy an unforgettable 'meet Santa' experience and find many other top festive days out and ideas for all the family to enjoy before the big day!
So, before you wrap up the presents and light up the tree, find out where all these magical experiences are happening.
Santa Sunday is returning to Dartington Crystal on 9th December 2018, Santa will be there from 11am – 3pm! 
Take your little ones along to meet Santa in his Mary Poppins themed grotto and enjoy a day of festive fun for the whole family. There will be grotto gifts, free face painting, themed glass painting, live music, a free prize draw, festive food and mulled cider for the adults. There will also be an extra 10% off everything in store when you spend £35 or more, great for stocking up on Christmas gifts.
Please note that the Factory Tour is available Mon – Fri and the Visitor Centre, Factory Shop and Pavilion Café are open 7 days a week.
Enjoy a magical Christmas at the National Marine Aquarium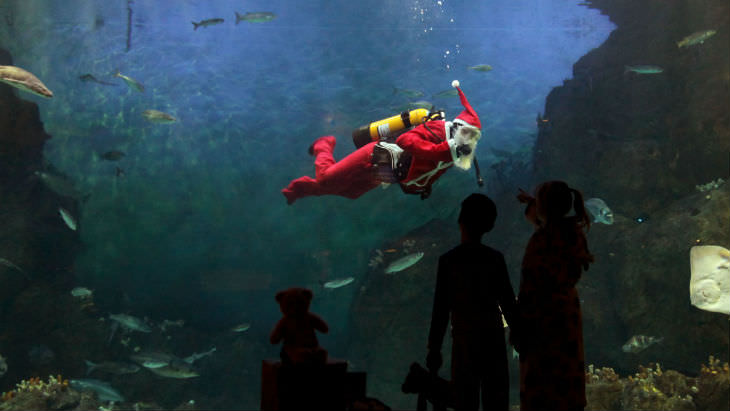 Dreaming of a blue Christmas? Fortunately the National Marine Aquarium has got you covered! You and your family will be able to enjoy special Christmas crafts and events during the day at the NMA, with this year's Christmas at the Aquarium focusing on 'Magical Migrations' – The incredible journeys undertaken by marine animals, just like how Father Christmas covers the globe in one night! The Aquarium will be decorated to create that festive feeling. There will be a festive winter trail around the Aquarium for families to work together and find clues.
Not only that, but visitors attending the 2pm dive show will be visited by a very special VIP – Santa himself! See him diving with the sharks and rays, feeding the fish, and more!
Relive your favourite Christmas film!
The Polar Express is coming to Seaton Tramway on selected dates throughout December! Families will enjoy the magical tram ride to Santa's home at the North Pole in one of the specially decorated single deck tramcars.  Enjoy a cup of hot chocolate, a delicious treat, speak to Santa and admire the awesome lights whilst you walk around the North Pole.
Children will also receive the first gift of Christmas from Santa himself. On the return journey you will be able to enjoy singing along to Christmas carols. For the grown-up kids too, this is a trip down memory lane to a traditional Christmas of old.
A round trip lasts approximately 2 – 2½ hours. There are only a limited number of seats on our snug single deck tramcars for The Polar Express Tram Ride.
Victorian Christmas festivities at Arlington Court
Weekends: Saturday & Sunday, Now – 23 December, 11am-4pm
Enjoy a Victorian Christmas at Arlington Court this winter – with stunning decorations in the house, an outdoor festive trail and family crafts.
Christmas crafts, 11am-2pm
Have a go at making your own Christmas crafts to take home and enjoy. Donations welcome.
Christmas trail, 11am-4pm
Pick up a Christmas trail and explore the outdoors, looking out for the festive deer on your way.
Christmas rag rug wreath workshop
Sunday 2 December, 10am-2.30pm – a few spaces left
Learn the skill of rag rug making to create a unique and colourful decoration, from Deborah Hastings. You'll take home a completed wreath ready to hang.  £20. Admission included.
Christmas wreath making workshop
Saturday 15 December, 10.30am-1pm; Extra session: 1.30-4pm
Try a traditional Christmas wreath-making workshop using natural materials from the garden.
Learn the basics of how to construct wreaths and natural decorations using materials from the garden, and create a beautiful wreath to take home. All materials provided. Please take gardening gloves and secateurs if you have them.  £25. Admission included.
Father Christmas
Saturday & Sunday, 15–23 Dec,
12 noon- 12.30pm, 12.30-1pm, 1-1.30pm, 1.30-2pm, 2-2.30pm, 2.30-3pm
Come to our festive grotto in the stables at the Carriage Museum and meet the traditional green Father Christmas. All good girls and boys will receive a present. £5. Admission applies.
12 days of Christmas & Breakfast/Lunch/Brunch with Santa
1 – 31 December 2018 
Travel back in time to 1897 with special lighting, decorations, a 12-foot tree and a special festive hunt. Normal entry applies. Members go free!
12 DAYS OF CHRISTMAS
From 13th-24th there will be something on every day at Bygones!
Main events are:
15th& 16th  Santa will be there from 11-2pm handing out early presents! (extra £3 per child) and Gingerbread decorating at no extra cost.
Father Christmas Special Event.
22nd & 23rd Breakfast 10am & Lunch 12.45pm with Santa
24th Breakfast 10am & Brunch 12.30pm
Adults & Children £10.50 each
This includes entry to Bygones, your breakfast, brunch or lunch! (Continental breakfast and a selection of light bites sweet and savoury for lunch). And a present from Santa himself (worth approx £6+).
Under 3's are free.  Present from Santa for little ones will be a £3 charge.
Christmas at the Model Village
From 8th December 2018 – 1st January 2019
The Christmas Experience
The Christmas Labyrinth Trail
Enjoy a visit to the Model Village with some magical miniature Christmas scenes
A Christmas character hunt – find all the hidden mini Santa figures & other Christmas characters!
A Dream of Christmas' in the 4D Theatre – a 6-minute 3D adventure through Santa's Workshop
Magical Christmas Lights from 3.30pm to close.
Christmas is a magical time of year for all children so why not sprinkle that extra bit of magic and make this Christmas even more special by treating the children in your life to Breakfast with Santa at the BIG Sheep in Bideford on Sunday 16th December.
Christmas Nativities at Pennywell Farm
From now until 24th December 2018

Nativity Plays and Visits to Father Christmas on the magically decorated farm. The whole family is caught up in the Christmas magic at Pennywell. Adults are welcome to take part in the Nativity or simply watch the delight and wonder on the children's faces from the cosy straw bale seating, as the greatest story ever told comes to life.
Picture the scene… a magical manger setting with all the Pennywell animals, the barn twinkling with hundreds of tiny lights in the many Christmas trees and carols ringing out across the farm.
Every child can become a star performer of they would like to.
Santa by Steam at South Devon Railway
Visit Santa in his very own Grotto Train! Presents all round too! Booking essential.
The Big Sheep  hosts a fabulous Christmas market
Christmas Farmers & Craft Market undercover – every Saturday throughout December from 9 – 4pm.
Drink and be merry in Devon this winter!
If you're coming to Devon, why not use it as an opportunity to sample some of the locally brewed drinks?  In a completely responsible and safe way of course!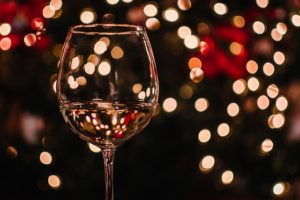 Devon has a whole host of vineyards, breweries and distilleries that are great for a day out, whether you're on the hunt for some exciting new flavours, want to learn a few tips to try out at home or just love having a few drinks with your friends, it is a great idea for anyone looking for a more unusual activity. You can even combine your trip with a chance to try out some local wines and spirits to grace the dinner table this Christmas and New Year!
The South West of England is known for its cider production and Devon is no different, but at this time of year when apples are scarce, you might want to look for something else to get the party started and for that, there are artisan vineyards and breweries all over the county for you to visit.
Many of the vineyards and wineries offer tours, some self-guided and some with an expert, plus you get to taste everything and there are often snacks on offer too, so you can easily make a day (or night) of it.
Devon is also famous for its gin, and as gin has been growing in popularity recently, so have visits to the distilleries around the county.
One of Devon's most famous distilleries is Plymouth Gin, which is open all year round. Plymouth Gin is the oldest working distillery in England and has been making gin to their own recipe since 1793, so if you want to learn more about how your favourite drink is made, it is a pretty good place to go! You'll also be able to finish off your Christmas shopping in the many stores, both independent and high street that can be found in Plymouth. Plus you can walk all the gin off the following morning at the Gardens at Pentillie Castle, which is nearby. They stretch over 55 acres and are a great spot for watching the changing of the seasons. If you fancy dining out, the impressive Bistrot Pierre can be found in Plymouth's Royal William Yard and offers food in a traditional French style.
The Salcombe Distilling Company is another brilliant choice for anyone looking to tour a distillery as a unique winter activity. This distillery and bar overlooks the estuary in Salcombe and if you book to go on a Wednesday, Friday or Saturday, you'll even get to take part in Gin School, where you can create your own gin recipe – so that would be your last minute Christmas gifts sorted! Salcombe is also a beautiful area of south Devon.
Carol Concert at Kents Cavern
You can join the annual underground concert and feel free to sing along.
This is a two hour carolling concert where you begin seated and then journey around the caves by candlelight.
For more information go to:
Prices: £16 per person
See sparkling displays inspired by Hans Christian Andersen's The Snow Queen
Killerton is transformed into the icy world of the Snow Queen.  Follow Gerda's journey to rescue her best friend Kay from the Snow Queen's ice castle where he has been imprisoned.  Outside continue the story following the twinkling trail through the garden and parkland.  Don't miss out, book your timed tickets to see the house.
https://www.nationaltrust.org.uk/killerton/lists/christmas-at-killerton
Steam Train of Lights!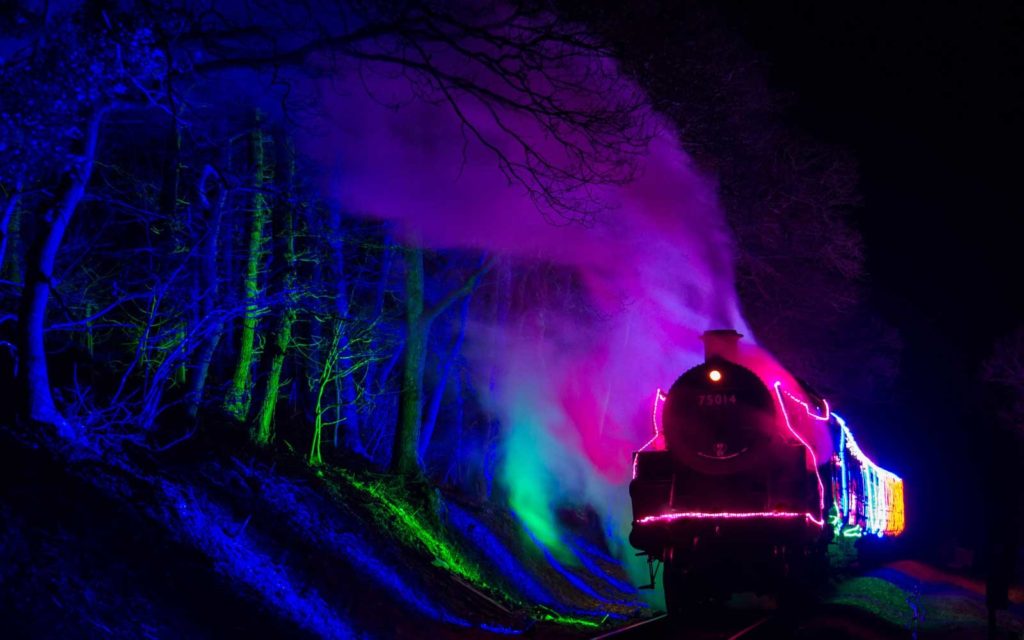 This truly spectacular illuminated journey starts at Queen's Park Station, Paignton, where the vintage carriages await you, decorated with thousands of lights.  Once you're settled in the your seat you will arrive at Churston Station, where the dazzling show begins.  You will be propelled through the 450m Greenway tunnel leading you to the enchanted forest, featuring displays and a multitude of lights creating a nocturnal extravaganza.  The breathtaking show ends as you leave the forest and the twinkling lights of Dartmouth are reflected in the Dart river.  After a quick turnaround at Kingswear you will be experience the whole spectacle from the other direction.  For the deluxe version why not upgrade to the Devon Belle observation carriage?
Get the best view of the Exmouth Christmas Day Swim!
Join all the Stuart Line family to watch from the warmth and comfort of the boat, Exmouth's greatest Christmas Day tradition, the Christmas Day Swim!
Setting sail at 10.45am, it will cruise down to the seafront for the best view of all the crazy revellers as they charge down the beach and dive into the water – brrrr!
It will then turn to take a leisurely cruise up the glorious River Exe to while you can enjoy a hot glass of mulled wine and tasty mince pie,  relax and soak up the views.
This cruise lasts one and a half hours and will return you to Exmouth Marina for 12.15pm!
Advanced booking on this trip is essential, tickets cost just £10 for adults and £7 for children and include your glass of mulled wine and mince pie!
Not sure how to decorate your Christmas table? The garden department at Buckfast Abbey is running a table decoration workshop so you can create your own decorations from seasonal foliage and wood.
The cost includes all materials and festive refreshments.
Enjoy a special evening of carol singing by candlelight alongside the resident donkeys and Santa.
Setting the scene and adding a touch of magic to the evening's proceedings, the sanctuary will be spectacularly illuminated by thousands of candles from 3pm onwards.
The festive celebrations will then begin with a host of merry tunes on Main Yard, before the 45 minute Christmas carol service commences at 5pm in New Barn surrounded by lots of friendly donkeys – who may even join in!
For those who are unable to attend, the webcam sound in New Barn will be turned on from 3pm onwards, allowing you to enjoy the service from the comfort of your own home.
The Kitchen restaurant will be open for festive refreshments until the end of the event, as will the Gift Shop for all those Christmas gift needs.
A Boxing Day Barbecue should make the perfect follow-up to Christmas day for all your family and friends.
Enjoy a lunch barbecue with live music on the quay with FREE entrance into the village of Clovelly all day.  Park at the Visitor Centre and take a walk along the estate and/or explore the village in the morning.  Then get on down to the Red lion on the quay.  Cooking starts at midday and the live music runs from 1pm to 3pm.
The Red Lion serves some great mulled cider.  If you are more of a chocolate person, then try one of the delicious, hot chocolate drinks.
Boxing Day and mince pie specials on the South Devon Railway
Anyone wanting to beat being stuck indoors on the sofa watching television after maybe eating too much food on Christmas Day can still make merry by jumping on to a  steam train to enjoy some stunning Devon scenery, plus a seasonal mince pie or two, at the South Devon Railway.
We are running our Mince Pie special steam trains over seven days from Thursday 27th December to Bank Holiday Tuesday, 1st January 2019 inclusive to welcome the New Year in style. We'll also be running on Boxing Day.
There will be three trains every day and plenty of seats will be available so you don't have to book.
…..and that's just a small sample of what's on offer!  Be sure to check out our late availability offers and you could enjoy a memorable Devon Christmas! – https://www.devonfarms.co.uk/late-availability-holidays-in-devon/