One of the main things that attract people to come on holiday to Devon is the gorgeous countryside. The rolling hills, nature-filled woodlands and seascapes are just some of the natural beauties you can expect to find. That said, for those of you who also enjoy the elegance and grace of gardens, well Devon does not like to get outdone there either. Devon is home to some of the most spectacular gardens in the UK. Don't believe us? Well, we thought we would show you just some of what you could see on your next holiday to Devon. We start our search in South Devon, home to beautiful, gentle beaches and wide green spaces.

---

---
The Dell, Eastcliff Park – Teignmouth

The Dell is one of the green spaces available to explore at Eastcliff Park. The park itself sits above the sea and railway line and consists of three separate gardens. The Rowdens is a lawned area that is overlooked by Rowdon House. The Mules Park which is an area of open grassland and of course The Dell which is a beautiful sub-tropical garden with three ponds, making this a perfect destination for garden lovers. All in one day you can enjoy the beach and three very different style gardens.

Coleton Fishacre – Kingswear

This stunning National Trust site is compromises of both a stunning house and equally stunning garden. The house is set on 29 acres of land in South Devon, which has been cultivated into a selection of beautiful gardens, filled with Wildflowers, Rhododendrons, Camellias and more. The gardens include terraces, walled gardens and woodland. What is not to love with such a variety on offer all in one garden. 

Lukesland Gardens – Ivybridge

This 24-acre family-run garden is set within Dartmoor's National Trust on the edge of Ivybridge. An interesting garden where there is fun to be had for the whole family as it consists of lots of ponds and bridges. At any time of the year there is clear water cascading down over the waterfall into the ponds below. Lukesland is well known for its range of spring and autumn flowering shrubs and specimen trees. They also serve a fantastic cream tea that never goes amiss!

Dartington Estate Gardens – Totnes

A stunning manor house and gardens created in the 1930s overlooking the River Dart. With this property, you are spoilt for choice with the range of gardens available. There are 9 different garden/sculpture places to enjoy including; The Tiltyard, Henry Moore's Memorial Figure, The Sunny Border, The Bridge by Peter Randall-Page, Flora, Beatrix Farrand's Countryard Paving, The Yew Tree, St Mary's Church Tower and Silent Spaces. If you are one who loves gardens, houses and sculptures then Dartington Estate should be on your list.

Paignton Zoological Gardens – Paignton

Yes, we are still talking about visiting gardens but as it happens Paignton zoo actually has a range of stunning gardens as well as lots of animals. This makes it the perfect family day out, meeting everyone's needs. The gardens include a range of champion trees (exceptional examples of their species), herbaceous borders and wildflowers. It also houses a wide range of exotic plants due to its indoor areas. These plants include desert plants, tropical plants and more.

---

---
Cockington Court – Torquay

Cockington Court is home to another fabulous house and gardens. The gardens are situated behind the manor house and include a fabulous Tudor Rose garden and Walled Art garden. The Walled garden is home to The Feijoa project, a CIC community project for vulnerable adults. The project is named after the rare tree found in the garden. The Walled garden is maintained by two regular gardeners and their weekly team of 20 participants with learning difficulties. A beautiful garden which has an even more beautiful meaning behind it.

Buckland Abbey – Yelverton

Another National Trust site that is home to a stunning abbey and gardens. The main part of the Abbey garden was landscaped in the 1950s. From the garden, you can see across the valley to the woodland that stretches down to the River Tavy. The garden features Rhododendrons, Camellias and Magnolias. As well as the Abbey garden there is the kitchen garden where delicious fruit and veg grows which once would have fed the monks.

Fast Rabbit Farm Gardens – Dartmouth

If acid-loving plants are what you love, then this is a garden that you must visit. Situated within 43 acres of the secluded strawberry valley, these amazing gardens have been nurtured since 1991. As well as lots of amazing plants to see there is an abundance of wildlife at Fast Rabbit Farm Gardens. This makes it the best destination to step away from your busy life and enjoy the peace and tranquility of nature.

Powderham Castle Gardens – Exeter

If you love gardens and castles then this place is just right for you. Powderham Castle is situated in a tranquil deer park on the banks of the River Exe. As well as the Castle itself, the grounds boast three beautiful gardens. The American Garden that was created by the 3rd Viscount of Devon which includes exotic plants and trees and a medieval summer house. Then there is the Rose Garden where wisteria hangs from the castle's east-facing terrace and is filled with blooms from June. Finally, there is the Walled Garden which includes a Victorian greenhouse, play area and pets corner!
Killerton House and Gardens – Exeter

Another National Trust site that is most definitely worth a visit is Killerton House and Gardens. The house was handed over to the National Trust in 1944 by Sir Richard Acland. Killerton Gardens are just as magnificent as the house with a wide variety of plants to be enjoyed as well as landscapes. It is also graced with an international collection of trees making it an area of interest for tree lovers.

Overbecks Museum and Garden – Salcombe

This Edwardian house was built in 1913 by the Hopkins family and is available to the public to view. But what is more exciting for the garden lovers among us is the exotic range of planting in the surrounding gardens. Explore the banana garden, take a stroll through the woodland or sit back and relax under the palm trees. These unusual gardens are bound to satisfy your garden needs and perhaps inspire a bit of the tropics into your own gardens. This is another National Trust site so perfect if you are already members.

Ugbrooke House Gardens – Newton Abbot

Home to another fabulous, grand manor house and its surrounding gardens. Ugbrooke's history stems back over 900 years. The gardens combine a mixture of natural and formal gardens and provide you with something around every corner. A great place to go during your holiday to Devon.

---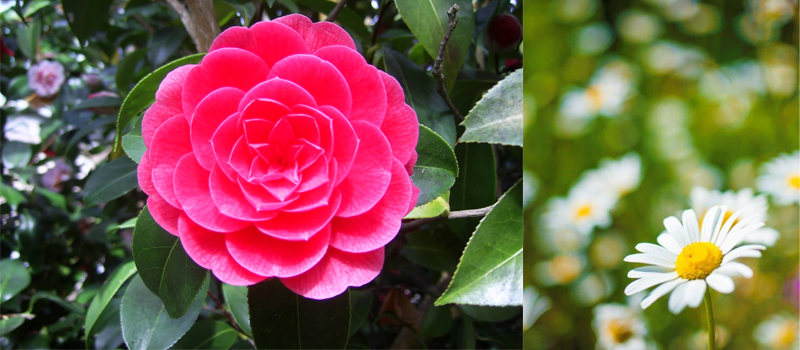 ---
If today's blog has tempted you to South Devon to investigate the beautiful gardens for yourself then be sure to take a look at the accommodation we have to offer. Here at Devon Farm Holidays, we have a variety of high-quality Self-Catering cottages or B&B's to choose from.