As the weather is only really good for sledging or hibernating we think World Book Day (yesterday) should be extended!
Devon has inspired many authors, and South Devon is still a creative hub of artists & craftsmen who are inspired by the stunning and diverse area in which we live.  It's no wonder that celebrated writers such as Charles Dickens, Agatha Christie, Thomas Hardy, Jane Austen, Arthur Conan Doyle, RD Blackmore, Henry Williamson, Samuel Taylor Coleridge – to name only a few – all have links in one way or another with Devon.
Here is our top pick of books with a Devon connection:
Agatha Christie
Agatha Christie was born in Torquay and as a child she enjoyed all aspects of an English Riviera social life: roller-skating along the pier, going to dances, dinners and balls and bathing in the sea.  She later spent many happy years at Greenway House, her holiday home on the banks of the River Dart, now owned by the National Trust.  Greenway is a magical place to explore for all the family, the house is charmingly cluttered, and there are acres of grounds filled with meandering walks, hidden follies and views of the River Dart. Agatha Christie set three of her novels here – Five Little Pigs, Dead Man's Folly (in which the boat house is the scene of the crime) and Ordeal by Innocence.
Agatha Christie set 'And Then There Were None' on a fictional island off the coast of Devon, inspired by Burgh Island at Bigbury.  It is also the setting for the Hercule Poirot mystery 'Evil Under the Sun'.
Greenway House is approximately a 20 minute drive from Beeson Farm (if you travel via foot ferry from Dittisham).  You can find information on visiting the house here:   https://www.nationaltrust.org.uk/greenway
Burgh Island and Bigbury beach are approximately 35 minutes from Beeson Farm by car.  The beach is a popular spot with many of our visitors who enjoy the large stretches of sand as well as surf lessons from the surf school.
Michael Morpurgo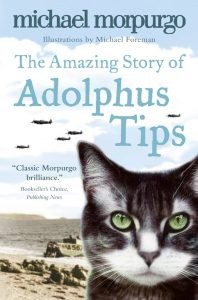 Celebrated author, and resident of Dartmoor, Michael Morpurgo has written some of our best loved children's books.  War Horse and Farm Boy were set on Dartmoor, but The Amazing Story of Adolphus Tips is a favourite with us.  Set in 1943, Lily Tregenza lives on a farm in the idyllic seaside village of Slapton.  Her life is scarcely touched by the war until one day her family, along with all of the other villagers, are told to move out of their homes. Soon, the whole area is out of bounds as the Allied forces practice their landings for D-day, preparing to invade France.  Tips, Lily's adored cat, has other ideas.  Barbed wire and keep-out signs mean nothing to her, nor does the danger of guns and bombs.  Frantic to find her, Lily decides to cross the wire into the danger zone to look for Tips herself…
Torcross and Slapton Sands are a 10 minute drive from Beeson Farm.  Visitors can see the memorial to the hundreds of Allied soldiers who lost their lives in Operation Tiger as well as the Sherman Tank that was recovered from the sea and now stands as a place of remembrance.
You can read more about Operation Tiger here: http://www.exercisetigerslapton.org
Arthur Conan Doyle
Dartmoor provides the backdrop for The Hound of the Baskervilles by Arthur Conan Doyle; perhaps his most famous and best loved novel.  The novel is believed to be based on the story of local 'monstrously evil man' Richard Cabell of Buckfastleigh (his tomb still stands in Buckfastleigh churchyard).  Legend has it that when he died in the 1670s, fire-breathing dogs raced howling across the moor.  Baskerville Hall itself is argued to be either Hayford Hall or Brook Manor, both near Buckfastleigh, and many believe that Fox Tor Mire was the setting for the fictional Great Grimpen Mire.
Dartmoor is approximately a 40 minute drive from Beeson Farm. Visit the Dartmoor Visitor Centre (https://www.visitdartmoor.co.uk/things-to-do/dartmoor-national-park-visitor-centre-princetown-p140393) to find out more about the Hound of the Baskervilles.
Devon Cookbooks
If your reading tastes are more of the non-fiction variety then there are a plethora of cookbooks inspired by our local produce. The well-known Riverford box scheme began when Guy Watson started delivering vegetables locally to 30 friends in Devon.  They now deliver around 47,000 boxes a week to homes around the UK from our regional farms and their cookbook contains a great variety of seasonal recipes.  The Farm Kitchen at Riverford is approximately a 30 minute drive from Beeson Farm, find out more here: https://www.riverford.co.uk/restaurant
The newly published Devon Cook Book (http://www.foodanddrinkdevon.co.uk/devon-cook-book) celebrates the best of the county's food scene with over 50 recipes from a wide selection of local foodie businesses.  These include some of Devon's finest local restaurants, delis, gastro pubs, cafes and local suppliers (such as the South Devon Chilli Farm, a 20 minute drive from Beeson Farm – https://www.southdevonchillifarm.co.uk/).  To browse these and many more titles visit the Harbour Book Shop in Kingsbridge, on Mill Street at the bottom of the town.
Cottages at Beeson Farm are well stocked with good reads.  Sit and relax in the farm grounds or on the beach with a good read on your next stay with us!