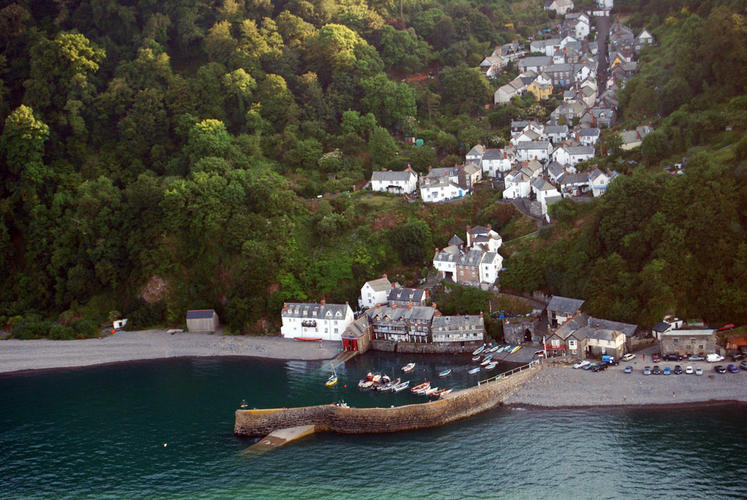 Clovelly is a unique village once owned by the Queen of England and, from the Elizabethan era until the present day, it has been in private ownership.  This has ensured it has preserved its original atmosphere.  Clinging to a 400 foot cliff in North Devon, it has no vehicular access on its steeply cobbled street, just donkeys and sledges.  The man-powered sledges transport all goods to the village, from groceries to furniture. Donkeys used to be the main form of transport for centuries, but now mainly give children rides during the summer or can be seen posing for photographs in the street.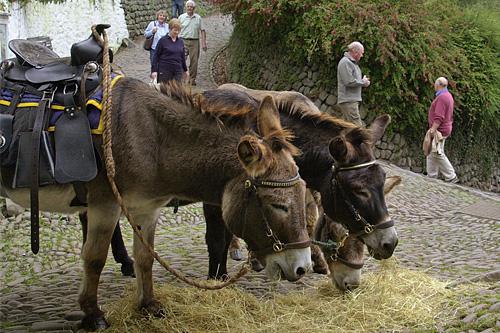 The cobbled street tumbles its way past gleaming white cottages, festooned with flowers, down to the ancient fishing harbour and C14th quay.  It is a descent broken only by little passageways and winding lanes leading off for the prospect of further picturesque treasures. From the quay you can take a boat trip along the coast and Clovelly also maintains its very own lifeboat.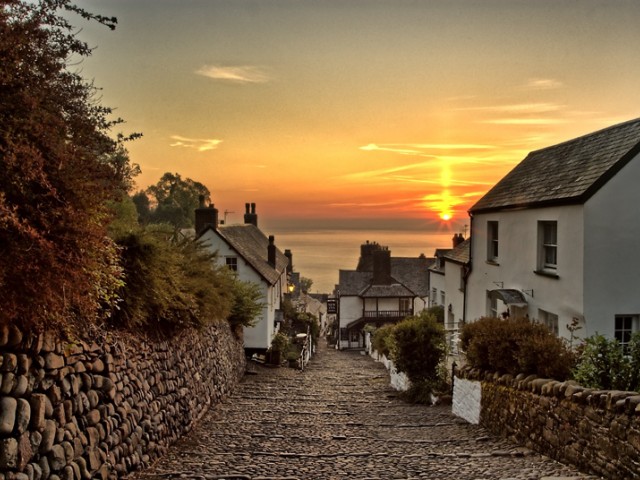 There are many literary connections; Charles Kingsley (1819-1875) lived here as a child and returned many times as an adult. His description of the village has hardly changed after all this time: "Suddenly a hot gleam of sunlight fell upon the white cottages, with their grey streaming roofs and little scraps of garden courtyard and lighting up the wings of the gorgeous butterflies which fluttered from the woodland down to the gardens".  Charles Dickens also wrote about Clovelly and Rex Whistler featured it in much of his work.
There are two museums, craft workshops for silk and pottery and an extensive souvenir shop in the Visitor Centre, where there is also a must-see audio-visual of the village history.
Clovelly has two hotels; the 400 year old New Inn in the heart of the village and the C18th Red Lion on the quay.  They both provide delicious lunches, dinners and Devon cream teas.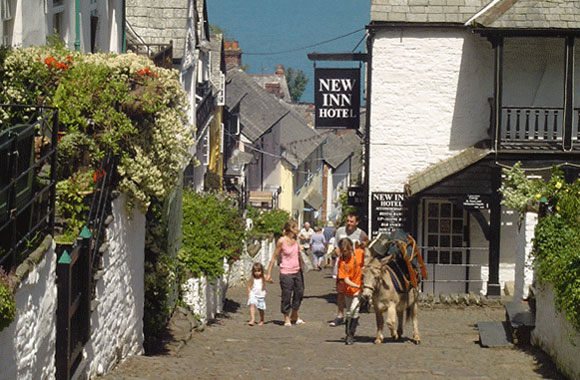 Ask at the Visitor Centre for directions to Clovelly Court Gardens; a classic example of a restored Victorian walled kitchen garden including magnificent lean-to glasshouses, sheltering Mediterranean fruits and vegetables. The unique maritime microclimate of the garden allows the growth of tender and exotic plants.
There is much to see and do as well as events like the "Seaweed Festival" in June, "Maritime Festival" in July,  "Lobster and Crab Feast" in September and the "Herring Festival" in November.