There is plenty of fun to be found to suit all ages and budgets this Half Term in South Devon.
Here is our pick of whats on locally:
Woodlands Family Theme Park, near Dartmouth (approximately 20 minutes from Beeson Farm). During half term it's Superhero and Princess Week, with winter prices of only £7.50 per person.  When children dress up as a superhero or a princess they will get a free child return ticket to visit the park again before 25th March 2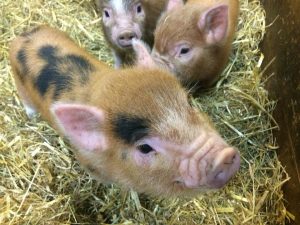 018. There will be live entertainment 13th, 14th and 15th February 2018. https://www.woodlandspark.com/
Pennywell Farm (approximately 45 mins from Beeson Farm). Become a Pennywell VIP with a February Half Term return ticket. A full price day admission ticket gives you a FREE return for the rest of half term so you can visit as many times as you like! With a full day of hands-on animal action, a different activity, show or display every half hour, hundreds of friendly animals (including some you can bottle feed and the world famous Pennywell Farm miniature pigs). There is also an indoor play space and four free outdoor rides. https://www.pennywellfarm.co.uk/
Paignton Zoo (approximately 50 minutes from Beeson Farm). With over 2,000 animals across 80 acres, you're in for a really wild time at Paignton Zoo! Head down to the zoo for a week full of fun activities and the launch of their year of Nearby Nature. As well as finding out about all the animals in the zoo guests can learn about, and get closer to, the fantastic native species we have around us. There will be lots to do including special talks, trails and more. https://www.paigntonzoo.org.uk/
National Marine Aquarium, Plymouth (approx. 60 minutes from Beeson Farm). The UK's largest aquarium, with over 4000 animals.  2018 is their 20th birthday year! During February Half Term visitors can join in with 'Sea the Difference: Ocean Adventures' celebrating all the wonderful marine animals and habitats found here in the UK. Meet scientists, conservationists and marine heroes and take part in activities, games and adventures! http://www.national-aquarium.co.uk/
As if that all wasn't enough to fill your Half Term we would also recommend the Art Café in Kingsbridge, The Kidz and Co play café in Salcombe, PaperBird Island in Salcombe, Clip and Climb in Plymouth, iBounce in Newton Abbott, the South Devon Steam Railway in Buckfastleigh and Start Point Lighthouse.