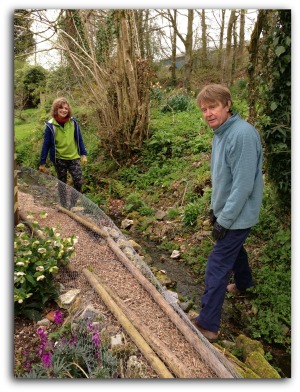 Our blog photo shows Jim and wonderful Workawayer, Elle building a duckling run last May.  The ducklings and Mother Duck lasted in that run less than one day before they found a way out and ran from there to the ponds – just one day old! Three surviving ducks (three quarters wild mallard and just one quarter runner duck) are now fully grown and live wild on the ponds.
Now we are in the midst of the crackdown on all birds, including backyard flocks, being kept in and away from wild birds due to avian 'flu. You'll be pleased to know the chickens have settled into being confined to the fruit cage, although each day when we clean the coop and feed them, they ask for freedom!
Well as for those wild ducks, they stay on the pond  away from backyard flocks confined by regulations, hopefully until the end of this month.
How lucky we are here.  Recent guests said: "Just wanted to drop you a quick note to say a big thank you for another wonderful stay at Swallows Nest."!
Lesley