It isn't only in the summer months that Devon's beaches are revered. All year round there's something to do on the beach, from sun bathing to dog walking. In this blog, we are going to highlight some of Devon's best beaches and their key features.
Sidmouth Beach
Sidmouth has a lovely traditional promenade which spans most of the town's front onto the sea. It has shelters at various points and is always a hive of activity. Behind the main seafront there is a vast range of tourist outlets as well as independent dairy ice cream parlours, fudge and sweet shops, coffee shops and larger chains like Costa coffee. This is accompanied by larger retail chains such as Fat face and New Look. In the summer months Sidmouth's tide goes out just far enough to reveal a sandy beach beneath its rocky stones and favourite tourist attractions like the WWII lookout 'The Clocktower' (now a great restaurant and gardens) are favourites will all visitors. Often you will see para gliders out over the cliffs at Sidmouth and it is well linked into the East Devon cliff paths network. In addition to this, there is great parking provision and a local feel to the town.
Best DevonDays in Sidmouth?
Sidmouth Folk Week
Fish and chips on the beach
BBQ on the beach
Sidmouth carnival
Branscombe Beach
Branscombe is a small Seaside village in East Devon. Set in the middle of a valley you can walk alongside the river all the way through the town to the beach passing many examples of Devon wildlife and local traditions on the way. The blacksmiths in Branscombe is one of the oldest in Devon and you may remember the large freight ship the MSC Napoli being grounded just off the coast of Branscombe in the national press. There is a small restaurant and tourist shop on the beach but the other conveniences are in the village further up the valley. Branscombe is a great beach for dog walkers, ball games and those who prefer the quieter side of life.
Best DevonDays in Branscombe
Walking in and around the village
Ball games on the beach
Sitting outside in the local pubs on a warm summers evening
Exmouth
Exmouth is a sandy beach with great travel links to the city of Exeter via a dedicated train service. A traditional seaside resort, Exmouth has adventure parks, amusement attractions, a long sandy beach and a wide range of facilities in the town which visitors and locals alike enjoy. The length of the beach in Exmouth makes it perfect for a spot of sunbathing in the summer or a dog walking along the seafront in the winter. It also has sand dunes and rock pools at one end of the beach- something for children to learn about and play amongst. The world of country life at Exmouth is especially worth a visit if you are interested in helping your children to learn about country life in Devon whilst having fun. There is plenty of indoor play areas and museum exhibits to interest young children. Particular highlights are the pirate ship, ferret racing and falconry displays which are always well received.
Best DevonDays in Exmouth
In the next blog, we will be looking at the following beaches:
Budleigh
Seaton
Shelley Beach
Beer
Meanwhile, as part of our #FarmhouseFoods campaign our latest recipe is for delicious Devon oranges and lemons marmalade. You can make it with any Citris fruits and a personal favourite of mine is lime marmalade. This recipie is by Liz Lee from Church Approach Cottages in Farway.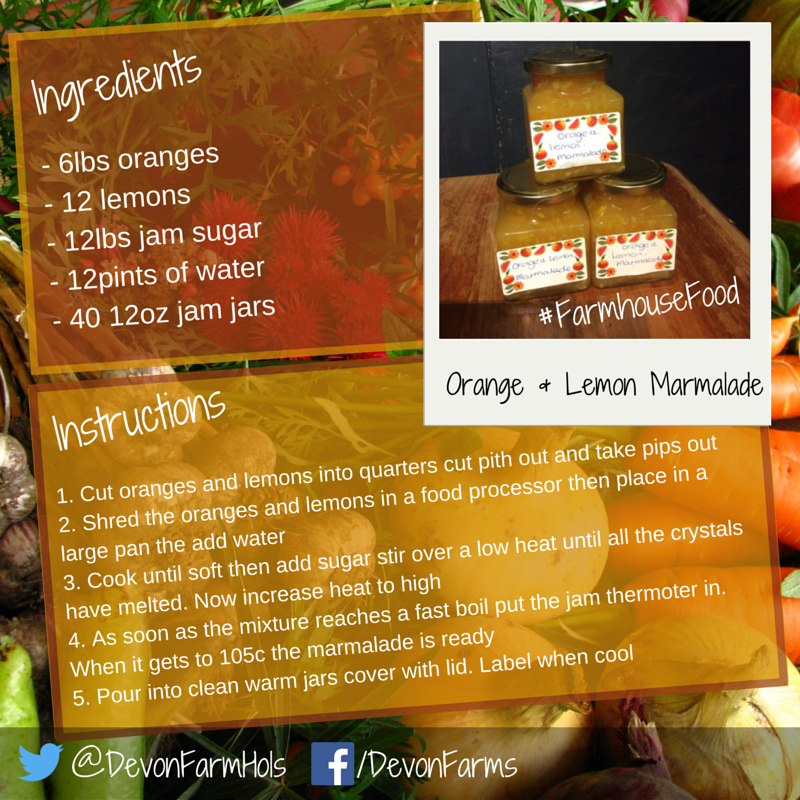 Don't forget to send in your #FarmhouseFoods To feature on our blog and social media.