A trip on the Tivertonian offers a truly unique and memorable experience of yesteryear for you and your family to enjoy, being one of the last remaining horse-drawn barges in the UK.  Located in magnificent Mid Devon on the banks of the beautiful Grand Western Canal, Tiverton Canal Co is a truly unique Living Heritage Tourist Attraction that offers an enjoyable family day out for everyone who loves boats, horses, wildlife and water.  There is also free access to the Canal Park all year round.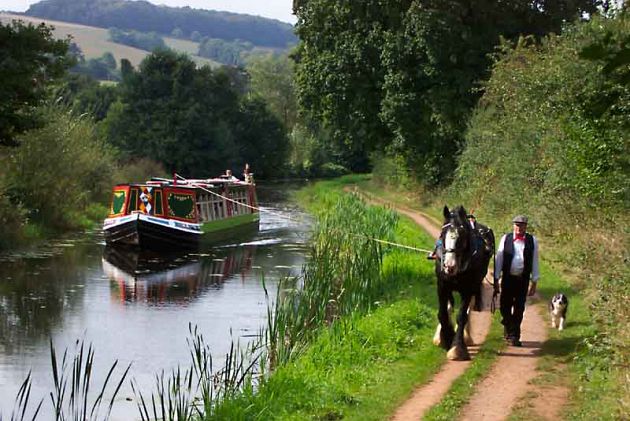 This beautiful wide beam, 75-seater horse-drawn Barge operates to Timetable from 1st April to 31st October with daytime Public Trips. It is also available for Private Hire during the day and evenings.
The best-loved trip is a 2½ hr return where the barge travels for one hour to East Manley, turns around and then moors up, allowing you the opportunity to take a short walk to see the aqueduct (designed by Brunel's team of railway engineers), or talk to the horse as he rests for a while under the shade of a tree.
During your special journey, you will hear memorable tales, anecdotes and historical facts about the horse-drawn barge and the Grand Western Canal.  There is often two minutes silence, where the peace and tranquility of travelling by horse-drawn barge can be fully appreciated.
A Gift Voucher  for a horse-drawn barge trip can be purchased from the lovely Gift Shop
The fantastic design of the horse-drawn barge means we are in action no matter what the weather! Large sliding picture windows can be raised or lowered dependent on the weather and time of year.
Tiverton Canal Co has three border collies: Mollie, Roxy and Milly. They sometimes come on our trips and ride on the horse's back. Unfortunately we are unable to offer other dogs onto the barge due to a lack of space. (on duty Assistance dogs only, by prior arrangement)
The horse-drawn barge has easy access and is carpeted throughout with upholstered seating and modern flush toilet. Disabled access is available with prior arrangement – call Becky on 01884 253345 to arrange this in advance.
There is now a Canal Play-Park open for children to enjoy on the Canal at the Tiverton basin – a short distance from the floating Ducks Ditty Bar, where you can relax and socialise with your friends and enjoy the tranquillity of the canal. There is a fully licensed bar & shop – (Cash Only, No Cards )  We serve real ales, draught beers and lagers, quality wines, cider, Gin, spirits, old-fashioned soft drinks, tea, coffees, snacks, Marshfield ice cream. (Postcards and souvenirs are also available)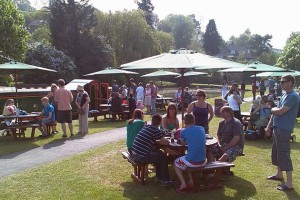 The Ducks Ditty is a genuine Artisan Coffee house – Espresso, Cappuccino, Latte, Mocha or Hot Chocolate, also a range of Loose Leaf Teas alongside tempting sweet cakes & treats we also serve lovely Marshfield Scoop-Ice-Cream.   Should you be feeling more hungry we serve a range of award-winning Chunk of Devon Hot Pasties… ie Pork & Scrumpy, Cheddar & Onion, Steak, Steak & Blue, Chunky Roast Vegetable and the lovely spicy Chicken & Chorizo. (eat in or takeaway)
Boat Hire
Tiverton Canal Co offers a range of hire boats available hourly, which include Rowing Boats and Canadian Canoes, The Grand Western Canal supports a rich and vibrant variety of wildlife and interesting things to see.  All the hire boats provide a great opportunity for you to get close to nature and explore the canal at your own pace.
Boats available for hire include . . .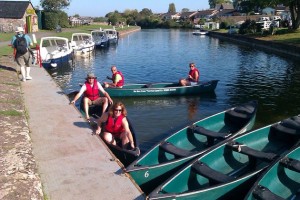 Besides our own dogs and horses that spend much of their time on or near the towpath, the Grand Western Canal is a local nature reserve filled with wildlife and offers plenty to do and see.
With free access to the canal all year round, walkers, cyclists, anglers and boat enthusiasts can enjoy 11 miles of quiet and unspoilt waterway that will lead you through Devon's beautiful countryside.   Don't forget your camera!