The life of a farm dog is, generally speaking, a very happy one, especially in Devon where the fantastic variety of countryside provides a wonderful environment for dogs to explore. Our dogs are no exception. They know every inch of our land, where the best places to get under a fence are, where the red deer cross the valley, the trees the squirrels are always in, and the most likely places to find rabbits.
Bruce, the sheepdog, is very much focussed on sheep and, although he will get excited about squirrels and rabbits, sheep are really 'his thing'. The spaniels, however, are in their element.  They completely ignore sheep, but the scent of a pheasant will send them into a frenzy.  Jessie, the old bitch and matriarch, and young Teazle are both springer spaniels and will literally hunt until they are exhausted, whereas the clumber spaniels, Barley and his daughter Holly, are more discerning, preferring to use their noses to scent out where game is, rather than charging around like maniacs.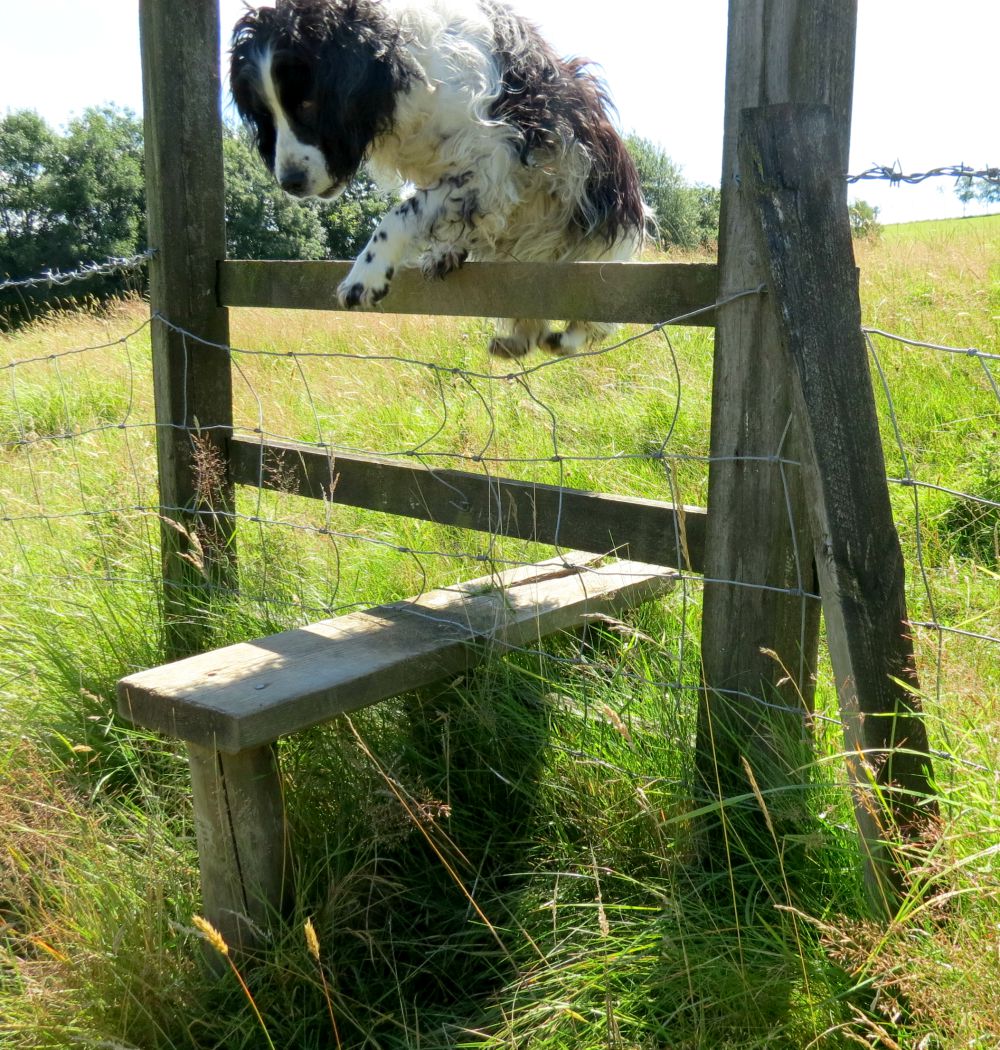 Best of all for the spaniels is when the missus takes them with her when she goes out beating for local shoots.  Their job is to flush out the peasants, and this involves diving into gorse and bramble thickets, swimming across streams, struggling through bogs and clambering over all manner of barriers – absolute heaven for a spaniel.  There can, however, be a cost.  Jessie, now retired from beating, has lost an eye and a toe while Teazle was lucky to escape with her eye after an incident with a bramble.  The clumbers are rather more careful about themselves.  Once Barley was trapped in a tangle of old barbed wire, but rather than struggle and damage himself, he just remained perfectly still until the missus could climb down to him, at the bottom of a 20 foot deep gulley, to cut him free.
After a days beating the dogs are fed a tin of dog food each and then, on special occasions when they are particularly wet and cold, they are allowed into the house to dry off.  The photo below shows the two clumber spaniels recovering in luxury after a particularly hard days work.
Lindy and Robin Head
Harton Farm
Oakford
Tiverton
Devon EX16 9HH
Tel: 01398 351209
www.hartonfarm.co.uk