Oh my goodness! What an amazing dog! I was sitting in the freezing cold at a sheepdog trial in East Sussex. What was I doing there, so far from Devon? I was supporting a sheepdog trial to raise funds for a lovely youngster who was off to Peru on a school trip.  The trial was held at the farm where, some 30 years ago, I had enrolled on a sheepdog training course run by a quiet, unassuming, but superb handler and teacher called Sam.  He worked many dogs, but one was special – Roy – a small, black and white border collie who mirrored his owner – quiet, unassuming and brilliant.  I had always wanted a dog from Roy's line, so when the opportunity presented itself I purchased Nell as a pup some 4 years ago.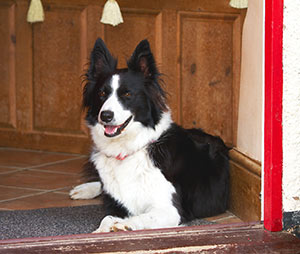 The trial was being hosted by Sam and his wife Zoe.  I was there to support them and their very worthy cause.  The Seven Sisters Country Park where they farm is remote, barren and so very different to our small farm in East Devon with its narrow, winding lanes, grass growing down the middle, high hedgerows full of foxgloves, cow parsley, and red campions.  Yet there is still something beautiful about its starkness. The sheep dog trial was one of the best, attracting dogs and owners from all over the UK and far beyond.
Sitting on the damp straw bale, wrapped up to the nines as the wind whipped across the valley, my vision blurred by wind-induced tears running down my face, I had seen so many dogs that day.  Some were good, some not a clue, but nothing had made me sit up and think, "Wow!".  I had done my duty, was cold, wet and preparing for the long journey home when suddenly my eyes opened wide as a dog came on the scene which looked pretty special.  He was a big male, red with a large white collar, long coated, stylish, keen but yet ordinary, as if he was doing a day's work.  His female handler was quiet, very business-like and gave few, but clear commands as the dog, knowing his job, carefully drove the 5 sheep around this very difficult, testing course.  The rain was now lashing down and the wind was whipping up through the valley which made it so difficult for the dog to hear the whistle commands.  He knew what was expected of him and it was his natural ability and the unspoken understanding between handler and dog which, for me, was a pure joy to watch. I was impressed. In fact, I was more than impressed. I had waited all day for this – to watch a very special dog do what it is born and bred to do – work. I had to get on the road so I never knew if he won the trial or not.
The weather was vile, I was still damp and cold, but I drove home with a smile on my face. I had been thinking about having puppies from Nell for some time.  She was 4 years old and ready, but I needed to find a dog that would complement her.  She is feisty, very keen, very fast and inclined to want the job doing quicker than necessary, so I was looking for a strong, steady dog.  I think I had just found him!
On the long journey home I couldn't stop thinking about this dog. I heard the owner call it Jim – a good old English name.  I didn't get a chance to meet the owner, but thought I would do some research first before making contact. The next day I was straight on the phone to Sam who organised the trial.  He knew the dog and the owner well and he just laughed when I suggested he might be the dog for Nell.
"Trust you to choose a dog that's obviously brilliant, but… he's French!"
"You're joking, surely they didn't come all the way over from France just for your trial?"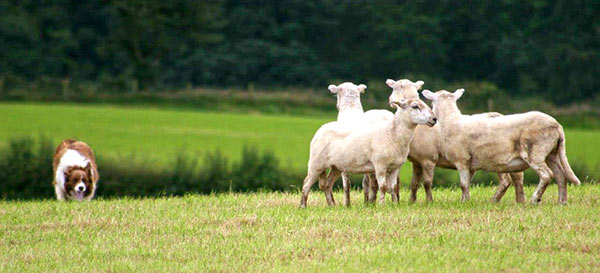 Indeed they had! His owner, Sabine, is very selective about who she allows him to mate with – the pedigree of the bitch, where the pups will be sold etc. Maybe French Jim was beyond my reach, geographically and financially.  I felt really disappointed. But hey ho, it's only a stretch of water we have to cross. No, I was not giving up.
Sam was right; Sabine was very thorough.  No stone was left unturned about Nell or about me! After what seemed like millions of e-mails and phone calls, the 'date' was agreed.  We were off to France!  I must be mad! Surely there are some good dogs on my doorstep? Undeterred, the planning began.  First Nell – she had to have a passport and a rabies jab.  So much paperwork! The vets were also taken aback that I was going to travel so far, but they all know that when I set my mind to something there is no stopping me.
Nell came on heat and now the tricky part began. The most fertile time can be anything from day 9 to 14 but with a journey near to Paris to undertake, the timing was critical.  Perhaps this was a stupid idea after all. We had to be sure of the timing, so I took Nell into the vets for a blood test to tell us where her progesterone levels were, and whether the time was right. The results came back and the vet informed me that Nell was spot on.
"She's ready to mate, Janet, so get going quickly – you don't want to miss it"
"You're joking; we've got to drive to France!"
She was ready sooner than I expected. Thank goodness I had the test done. Time was against me. I put the phone down, got on the internet, booked the tunnel, packed the car, loaded up Nell, who was smiling from ear to ear as she loves the car, and off we went. The roads were kind and in no time we were at Folkestone. I'd never been through the tunnel and it was so quick. We had another 3 hours to drive in France and I couldn't believe how empty the roads were. Does anyone live in France?
We arrived at our destination in daylight – St Germain sur Avre. Two large imposing iron gates met us, behind which stood the most amazing large French styled farmhouse, bordered by the River Avre and surrounded by old, imposing brick barns, stone walls and level fields.  It was so peaceful and idyllic.  I was nervous. Our host, Sabine, met us and at her heels was Jim. He was exactly as I remembered him; stunning, intelligent and
Strong, but with a very kind eye.  Nell was champing at the bit to get out of the car. I felt immediately at home and soon Sabine's pack of other dogs and pups greeted us. In perfect English Sabine suggested we get right on with things, as I had relayed the vets' discussion with me.  We walked to a large field and meandered alongside the river as Nell bounded off, sniffing at everything and exploring at top speed. Jim was in hot pursuit, as clearly, to him, she was ready.  Nell had other ideas and told Jim that she was not interested! In fact, she had the audacity to show her teeth to him. Surely we hadn't just driven for 10 hours for her to give him the cold shoulder? After an hour she was still having none of it and I was in despair.  Sabine took control and I walked away. Finally Nell calmed down. Maybe Jim whispered something to her, but total relief washed over me as Nell stood for her French beau.
We stayed overnight in a fabulous self-catering barn on the farm and the next morning, at daybreak, outside the door was Jim, sitting patiently waiting for Nell.  We were back on the road by 7am, Nell sitting beside me smiling, and we arrived back in Devon by 5pm.  A lot of miles, a lot of anguish, a lot of money, but all so worthwhile when Nell had 6 beautiful pups!
Thank you Sabine and, of course, the amazing Jim!
http://www.yellinghamfarm.co.uk/