The telephone rings.
"Good morning, Yellingham Farm"
"Oh, hello, do you take single women?" Oh no not another one!
'Yes of course". I replied.
What ensued was the life history of a single lady called Christine.
"Well you see Mrs. East, I am on my own, been married, but he was not a good man and after many years of work, work, work, I have decided I need to live my life". Oh heck, another one who wants to find them self. She continues…
"I was in the dentist this week and picked up a glossy country magazine and I was smitten. It was amazing, the photographs were so good, there was bunting everywhere in the orchards, ladies sat under parasols at tables dressed with linen tablecloths, drinking elderflower cordial, making floral table decorations, sheep and cattle grazing in the background. I thought… I need some of this idyllic country life – what better place than a farm".
This lady sounded so lovely. You know what it is like, you have this vision of what a person looks like from the tone of their voice. Christine spoke in a very soft Yorkshire accent. I imagined her to be in her 60's, shy, but someone who had dedicated her life to others. There was a hint of her being slightly old fashioned but totally unselfish with sound morals. I was to be proved right.
I tried to explain that we were a working farm and whilst in my eyes it is beautiful and idyllic, magazines often depict life in the countryside as a dream to be realised, but things are not always so perfect. Oh my goodness, she even asked me if I made embroidered linen pot covers for my homemade jam. Heavens… I haven't even made any homemade jam this year, let alone made linen jam pot covers! I was not put off and was so keen to welcome this lovely lady to Yellingham Farm and try to match her expectations and let her experience our wonderful, yet hard working life. She booked there and then. As I put the phone down, I began to worry to death that I could not live up to the image that these glossy magazines portray. Yes, I have a beautiful orchard, but it does not have lovely tables, tablecloths, beautiful rose filled bowls, scones, jam and clotted cream and chickens meandering through the undergrowth.  Too many flies around for that and stinging nettles.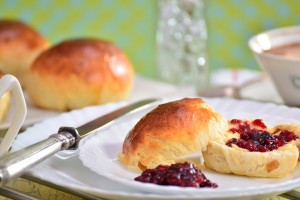 The day dawned. Christine arrived. Small car, dark blue, immaculately clean and as I was soon to appreciate, just like it's owner (not blue though!). Christine was in her 60's, very grey hair, bordering on white, nice bob haircut, glasses, traditional "A" line linen skirt and floral short sleeved cotton top and sandals. At this time of the year the entrance to the farm does look lovely with huge colourful hanging baskets everywhere, pots of begonias and fuchsias, intermingled with my favourite gorgeous smelling roses. It is a real picture. Christine's first impression of the farm was good and she was smiling from ear to ear, like a young child experiencing her first holiday.
When making the booking she made it very clear that she wanted to participate in farm life and be involved as much as possible but, having met her, I was not sure how easy this was going to be as her constitution, both mental and physical, was unlikely to hold up to the tasks I had in mind. The weather was good and the shearer was booked and the hay was nearly ready to bale. Two hot, sweaty, long jobs. Oh dear, maybe, I need to re-think and consider the benefits of making bunting in the orchard after all.
After checking in, a lovely cup of tea, and a general chat, I asked Christine if she would like a quick walk around the farm with me to get her bearings and understand what we farm and what was planned for the week. She was so excited. The first hurdle was that she didn't own a pair of welly boots and had certainly never wore trousers. Wellies I could sort, trousers, not a hope in hell.  A good job her skirts met the top of the wellies otherwise there were going to be a few leg issues. We walked along the River Tale which borders the farm with 4 border collies and Tilly, my beautiful jet black sprocker, the Swallows following us, dipping up and down and it was pretty "idyllic".  I daren't break this magical moment for Christine by telling her that tomorrow was going to be hard, smelly work – we were shearing.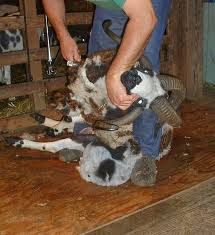 The morning was beautiful – not a cloud in the sky. The shearers were setting up and my guest told me how excited she was to be watching shearing for the first time in her life – perhaps she thought once it was over, I would be sat spinning in the evening and then knitting a beautiful jumper. I told myself not to worry and broke the news that it was all hands on deck and that she would be rolling wool with me – it fell on deaf ears as she had no idea what was in store. Still dressed in a skirt and pretty blouse we made our way down to the barn which was extremely noisy with every sheep baaing as loud as they could. She was clearly deafened by the sound. I quickly showed her how to roll a fleece and by the horrified look on her face this was not something she was not going to take to easily. The 2 shearers were working fast, it was hot, and it wasn't long before the fleeces were coming off the sheep quicker than we could roll them. Christine was trying hard, but she was rolling 1 fleece to my  4 and rather than being nice and tight, they were huge and loose. There was also another problem, she started to scratch her arms and soon they were very red and looked sore. I quickly recognised she had a problem – she was allergic to wool and particularly lanolin. I had to limit the damage so I suggested that I carried on rolling wool on my own and would she just like to go indoors, wash and change and then keep the shearers plied with cold drinks. With a great big smile on her face, she returned to the yard with a tray of cold drinks and for the next hour pestered the shearers every 10 seconds to see if they wanted more drinks. Bless her, she was so concerned for their welfare as the sweat dripped from their faces onto the sheep – even if they were fed up with her concerns, they never showed it. In the quiet of the evening, I saw her sat in the orchard, doing nothing, totally content with all my dogs sat at her feet, no tables with linen tablecloths, floral china tea service and homemade cakes… Just total peace and quiet.
Over the next couple of days, the hay got made, the bales stacked onto trailers and brought in and another hard, long farming task was completed successfully in beautiful weather. Given it was impossible to think that Christine could even lift one small hay bale, she relished the task once more of supplying drinks to the lads as the heat of the sun took its toll. That evening I joined her and sat watching the sun set over our pond below the orchard. Christine's week on the farm was drawing to a close. Had she enjoyed it? Did the expectations she dreamed of when she was reading the glossy magazine in the dentists come to fruition? I wanted to ask her, but at that moment down at the pond, something special was going on in her mind which I didn't want to disturb. We sat in silence for a while longer before she said in her quiet soft voice:
"Thank you Janet for sharing a tiny part of your life with me".
A pause. Oh no here comes the truth – she's disappointed. I have shattered her image of the "idyllic countryside" she had set her heart on experiencing.
"It has been more beautiful and fulfilling than I could have imagined. I may not have been much help to you, but letting me be the drinks monitor made me feel useful and wanted. I now realise the magazine was selling a dream. You have let me share in what the countryside is really all about".
I felt humbled as this dear lady was putting her old suitcase into the boot of her car, dressed in yet another "A" line skirt and pretty blouse. The dogs had come to love her and were fussing around her feet and I felt that she had formed a real bond with them and with us. I had a little present for her, no, not bunting or homemade jam, but the wellies she had worn all week. She was delighted – again like a child receiving a wonderful Christmas present.
Maybe I need to write to that glossy and tell them what it's really like at the sharp end – probably wouldn't get printed and it wouldn't attract lovely people like Christine. I wonder if she ever wore those wellies again?
PS A week later I received a beautiful David Austin rose called the Shepherdess. The card just said Thank You. C x
Janet