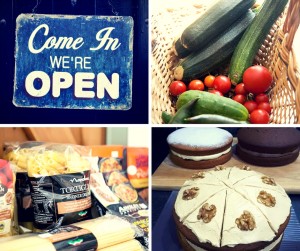 They say we are a nation of shopkeepers and here at Lower Campscott we certainly enjoy keeping the farm shop well stocked with all sorts of essential groceries, as well as our succulent meat and some delicious treats as well.  Part of our winter planning is a stock take and review of last year's best sellers.
The meat freezers have been filled with tasty beef cuts from our own Dexter cattle including top quality steaks, burgers, roasting joints and tender braising steak too.  Last year's pigs are this year's sausages and they are delicious!  That may sound harsh, but we believe that if you're going to eat meat then it should be produced to the highest welfare standards.  Our pigs enjoy a good life on the farm with plenty of space, food, shelter and opportunities to wallow and root around in their paddock.  There's also locally produced chicken and bacon too.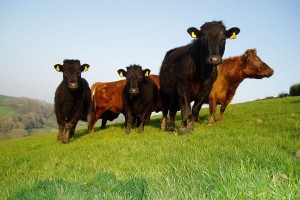 Our chickens are semi-retired, living out their days happily on the farm, and their egg production is dwindling.  Luckily our neighbours at Borough Farm have several large flocks of hens and can supply us with beautiful, organic eggs, ensuring we don't run out in the shop.
Kathy's home cooked meals, made with our own farm-produced meat, are always popular – simply reheat them, then serve and enjoy; ideal after a day exploring or on the beach.  Why not finish your meal with some scrummy Farmer Tom's ice cream?  Another Devon treat made on Dunstaple Farm using their own fresh, whole milk, clotted and double cream sourced from local dairies.  We stock one litre tubs and small theatre tubs, which are ideal for when the family can't agree on just one flavour!  Everyone loves a treat while they're on holiday and we're really excited to have found Cupcakin Around and the lovely Theresa who bakes in her Ilfracombe cottage kitchen.  We've tried some of her bakes and they're wonderful so we're thinking some farmyard animal themed cupcakes would go down well in the shop.  Theresa's lemon drizzle cake is sublime and her chocolate cakes are heavenly too.  For anyone celebrating at Lower Campscott – birthday, anniversaries or friends getting together – Theresa can bake you a fabulous celebration cake and deliver it to your cottage or lodge.  Take a look at her Facebook page for ideas and inspiration Cupcakin Around.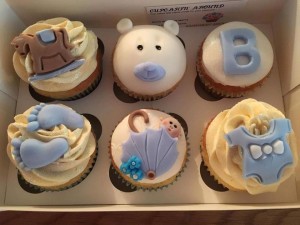 Thanks to a bumper crop last year we have lots of our own lovely farm produced apple juice to put on the shelves and we've just harvested a load more.  Brendon Hill Crafts will continue to supply us with jams, jellies and chutneys; all made in nearby Barnstaple and we're keeping it local with sustainably and locally produced charcoal too.
Add to that freshly baked pasties, bread, lots of grocery essentials such as pasta, tinned tomatoes, coffee, tea, sugar, fresh milk, cheese, butter and cereals and you should be able to get pretty much everything you need for your self-catering holiday.  No need to shop before you set off for your break – simply let us know what you need for your first few meals and we can make sure everything is waiting for you in your cottage or lodge when you arrive.
How's that for a very local shopping service?!