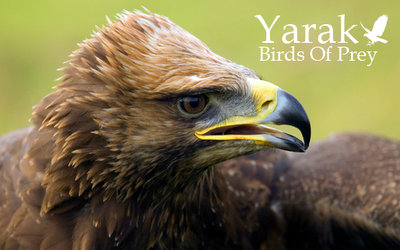 Yarak is the most unique falconry centre for birds of prey in the Southwest and is set in the heart of the countryside in a beautiful tranquil setting near Cullompton.  Yarak birds of prey offers hands on falconry experience days for those who want to experience handling and flying birds of prey in a totally private falconry centre environment. Yarak is the place to go for complete hands on experiences.
Whether you like Owls, Hawks, Falcons or Eagles there is something for everyone,
Hot/cold food and refreshments are available from the cafe – only food purchased there may be consumed on the premises.
All hands on birds of prey experiences are strictly by appointment only.  Renowned for the quality of the falconry experiences, they are just as well known for customer care.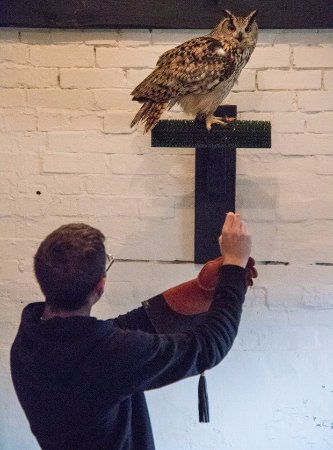 Yarak Birds Of Prey was moved from Oxfordshire to Devon in 2002.  The site that Yarak now occupies was a near derelict property.  John and Di, the owners, have developed the property to its current state with sheer hard work and thousands of pounds of personal investment.  Yarak is, and always will be, about the welfare of its birds, who are treated as family.   Many of the birds have come from unsuitable backgrounds, such as being kept by the inexperienced, resulting in psychological and physical trauma.  A lot of these birds have been integrated into the flying team, whilst others prefer the safety of their aviary environment as they have lost all trust for people.  For them, Yarak is like a retirement home where they can live a fruitful and peaceful life with plenty of stimulation.
The birds have amazing personalities and are treated like family, not tools of the trade.  The reason the birds are so content is that they are working in their natural environment and, unlike birds kept at theme parks and other attractions, do not have to cope with excessive noise and disruption.  Yarak has resisted many offers to join other locations with the promise of increased profits, but the owners have always refused as their bird's welfare remains the number one priority.
Yarak is the place for bird of prey enthusiasts of all ages to go and enjoy close up encounters in a natural, rural environment.  Enthusiasts can book half or full day experiences, an owl encounter or phone for a quote for a group visit.
Definition of "Yarak"
A state of complete focus on the hunt, usually referring to Accipiters.  An Eastern term referencing when the bird's training, weight, and mental focus all comes together in the field. The hawk is riding the fist in anticipation of the hunt and is ready to go.