Last month, Lyme Regis Museum reopened its doors to the public, following the completion of its new £1.5million Mary Anning Wing extension.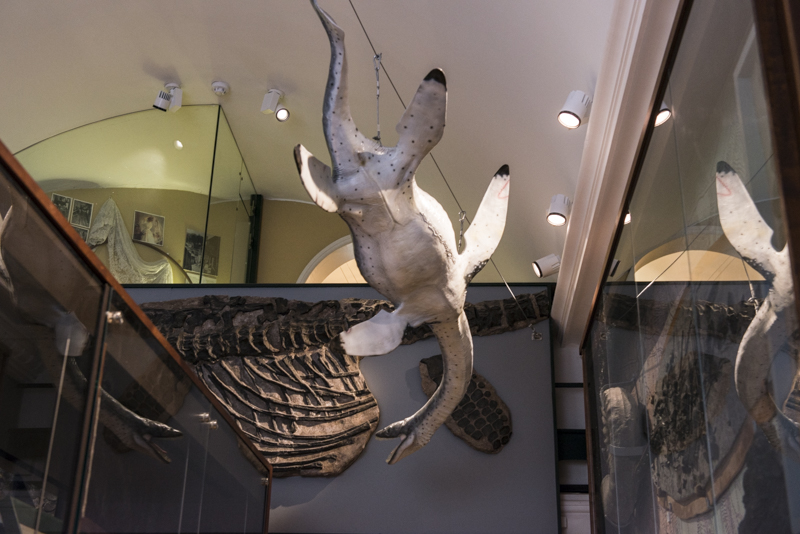 Thanks to National Lottery investors and other funding, the museum can now offer a new interactive fossil gallery and Fine Foundation Learning Centre, as well as a larger shop and improved visitor facilities, including a lift.  The new extension is contemporary in feel and constructed in glass and zinc, robust materials ideally suited to the museum's exposed position on Lyme's seafront. The first floor of the extension has magnificent sea views across Lyme Bay – the only public building in Lyme Regis to offer this. The original museum building has been repainted and refreshed throughout, and retains its Edwardian charm.
Museum Director David Tucker said "The Mary Anning Wing will enable our museum to do much more to make Lyme's fascinating history accessible to very many more people, as well as ensuring that we are better able to protect the town's exceptional heritage for future generations. It will enable the museum to host more events, improve the offer to the town's many tourists as well as work with larger museums and universities to encourage the study of Lyme's unique geology. Lyme Regis is the birthplace of the science of palaeontology, and our museum is built on the site of the home of the world's first, and greatest, fossil hunter, Mary Anning."
David added "We are very grateful to all our funders for their help. The range of support we have received has been amazing. Our sister-charity, the Friends of Lyme Regis Museum raised £68,000, the National Lottery contributed £79,000 and we received many smaller but equally valuable gifts, including £10.00 from a fifteen year old who donated her pocket money after visiting us".
The Mary Anning Wing provides the 113 year old museum with the services it needs to bring it into the 21st century and includes:
A new accessible geology gallery telling the story of Mary Anning and Lyme's fantastic fossils
A state-of-the-art Learning Space, where they can welcome schools, run exhibitions and events
A lift, ensuring all their visitors can visit the museum's first floor
An extended shop
Visitor toilets – so they no longer have to send people across the road to the public loos!