Spanning nearly 300 years of horticultural history, these magnificent Grade 1 listed gardens are set in Devon's picturesque Otter Valley, between the ancient city of Exeter and England's Jurassic Coast World Heritage Site. The superbly landscaped park combines 18th century tranquillity with modern amenities to provide all year round enjoyment for people of all ages. There are historic glasshouses, a countryside museum, the Bicton Woodland Railway train ride, a nature trail, maze, mini golf, indoor and outdoor children's play complexes, a restaurant and a shop. All this makes it one of the most visited attractions in the South West of Devon.
The history  – The Botanical Gardens have their roots in the early 18th century, but Bicton itself dates back more than 1300 years. It was originally called Beoccatun after a Saxon chieftain who settled in the forest on the bank of the River Otter. Four centuries later the Normans took over and built a prison at Exeter's Rougemont Castle to keep the local Saxons under control. Wardenship of the jail became a hereditary duty of lords of the manor at Bicton for some 700 years until the office of prison keeper was rescinded when the castle fell into disrepair in the late 1700s. By then, Bicton's Italian Garden was well established and horticulture was set to play an increasingly significant role in the future of the estate.
The Italian Garden is a stunning blend of formality and colour and is Bicton's world-renowned centrepiece. It provides the park's most famous view across vast terraced lawns to a tiered fountain, standing directly in line with a distant obelisk and framed by a sunken avenue, originally excavated by French prisoners of war in 1743. The Italian Garden, so-named because its style originated in Renaissance Italy, was inspired by the French designer Andre Le Notre (1613-1700), who created the gardens at Versailles for Louis XI. Le Notre worked on at least one commission in London, and it has been suggested that he visited Bicton to draw the plan used by Henry Rolle when he laid out the Italian Garden in c.1735.
Bicton Park Botanical Gardens is home to many rare plants with origins from all parts of the world, including one of the finest collections of trees in Britain. This Heritage garden is maintained by a team of dedicated gardeners who look after and tend the different areas, so that you can enjoy them to their fullest. The 63 acres of land and gardens to explore will keep you coming back time after time as you see them progress through the year and change with the seasons.
Bicton Glasshouses – The glasshouses at Bicton Gardens have been designed to re-create the natural environment of plants from different continents.
The Arid House
The Arid House features some of the world's strangest plants, among the cacti and other succulents growing in a naturalistic desert landscape.
The Palm House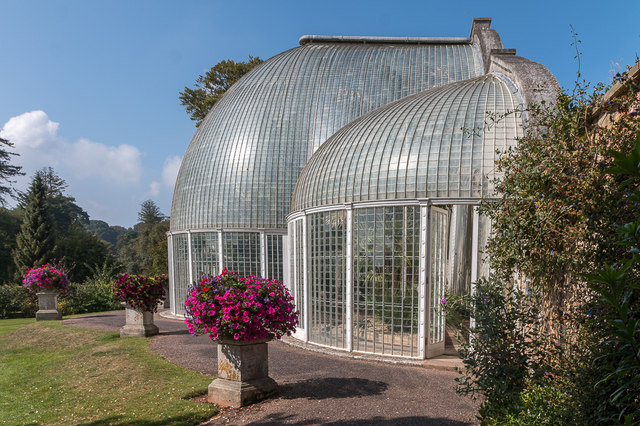 One of the world's most attractive garden buildings, the Palm House was built in the 1820s to a daring curvilinear design using 18,000 small glass panes in thin iron glazing bars. It contains many rare and beautiful palms, which make a romantic setting for the civil marriage ceremonies we are able to hold in this historic building.
The Tropical House
Lush foliage and exotic blooms abound in the Tropical House, home of the Bicton orchid (Lemboglossum bictoniense), named after the Park where it first bloomed in 1836.
Countryside Museum
Take a trip down memory lane at the Countryside Museum and see many restored artefacts and machinery of rural life from days gone by.  The exhibition hall is packed with nostalgic delights for all generations including traction engines, vintage machinery, traditional tools, tractors and domestic memorabilia that trace the history of rural life at Bicton and elsewhere in Britain over the last three centuries.  Do-it-yourself has taken on a new meaning since the times, not so long ago, when day-to-day survival in rural areas, for all but the very rich, depended upon a constant grind of DIY jobs.  Craft workers fared a little better and their products and tools are among the artefacts on display at Bicton.  Bicton was a busy estate in the 19th century. Employees brought a multitude of skills to the tasks of developing the ornamental gardens, cultivating kitchen gardens, running the farm, managing woodlands, controlling vermin and maintaining the mansion. All of these jobs are reflected in the museum's exhibits.  An 1831 hand-operated fire engine, kept at Bicton House for 100 years, would no doubt have seen action in 1874 when a blaze in the mansion's east wing caused considerable damage.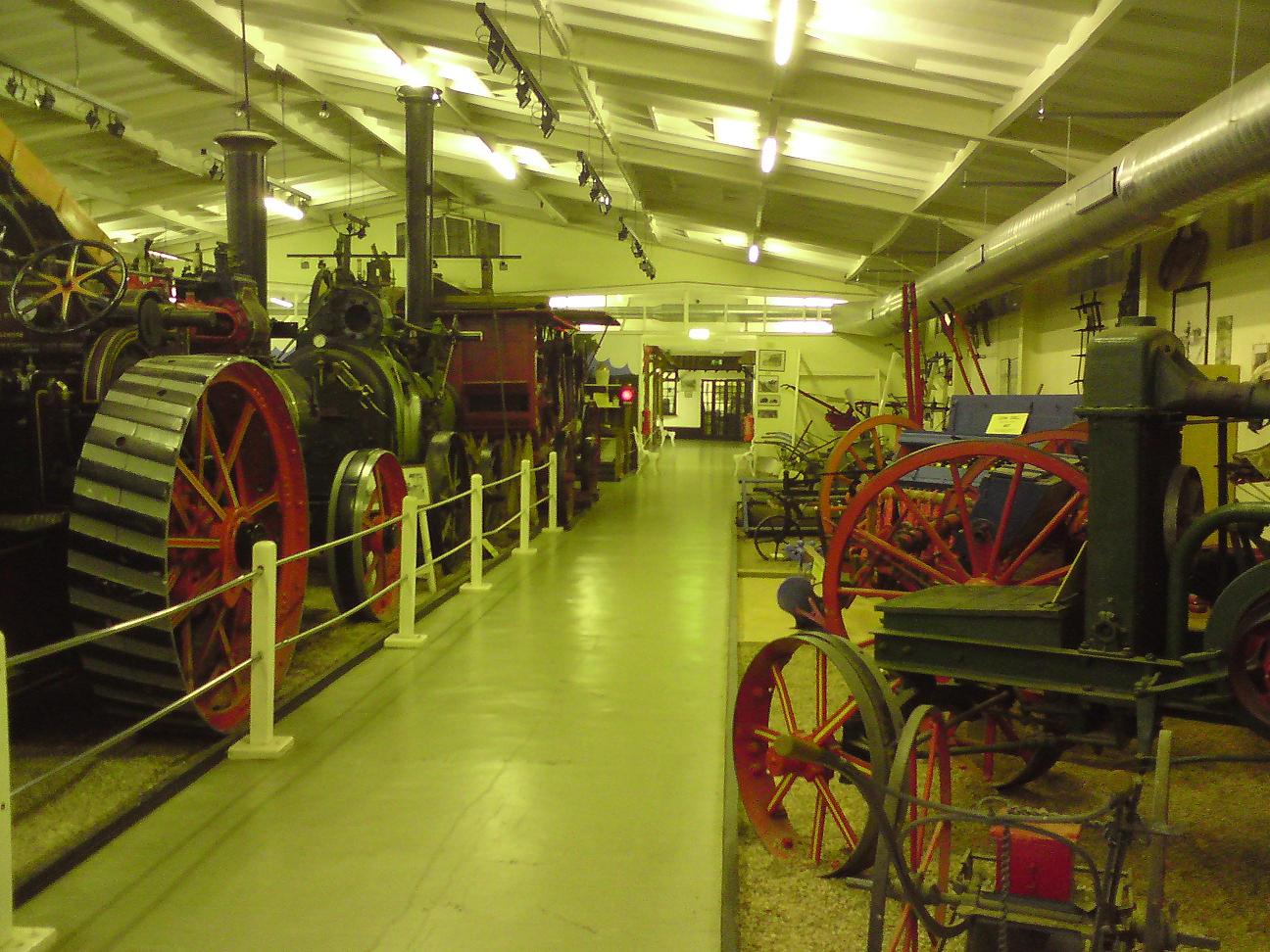 The Reg Imray Motorcycle and Car Collection
Vintage vehicle collector Reg Imray, 90, who has been deaf since birth, was born on April 8, 1922.  Since the age of 19 he has built up an impressive collection of more than 40 classic cars and motorcycles, some of which are on display in Bicton Park Botanical Gardens Country Life Museum.  Reg, who said his hobby had become his life, is proud of his record of never having an accident after more than 70 years behind the wheel.  Reg's love for motorbikes began when he was just eight years old, after his school teacher told him he would never own a motorbike because he was deaf – making him determined to own one!  The vintage vehicle enthusiast first owned a motorbike during World War Two when he paid his dad £10 for his first BSA.  Reg's wish to become a pilot and fly a Spitfire during WWII was thwarted because of his deafness. Instead he supported the war effort making de Havilland Mosquitos.  His services were rewarded when Geoffrey de Havilland presented him with a medal for his work.  The museum really is a treat for all ages and features a unique collection of historic artefacts.
Bicton Railway – Bicton Woodland Railway was developed in the early 1960s as an additional attraction within the gardens.  The longest established 18-inch gauge railway running every day except Christmas and Boxing Day.  A scenic ride around the park on Bicton Woodland Railway is a treat for children and grown-ups alike. It's also something special for railway enthusiasts because BWR runs on the only 18-inch (457 mm) gauge leisure line left in Britain. The train operates all year, making regular 25-minute trips, for which there is a small extra charge.  The train departs from Bicton Station and winds its way through the Pinetum, home to many of our champion trees, to Hermitage Station at the far end of the park. From there, it takes you back along the banks of the Great Lake to complete its journey of around 1.5 miles (2.4 km).  Custom built in 2000, the replica tank engine Sir Walter Raleigh was named after the 16th-century adventurer, who was born near Bicton. The 5.5-tonne loco hauls up to four 24-seater coaches, all of which are roofed to keep you dry on rainy days.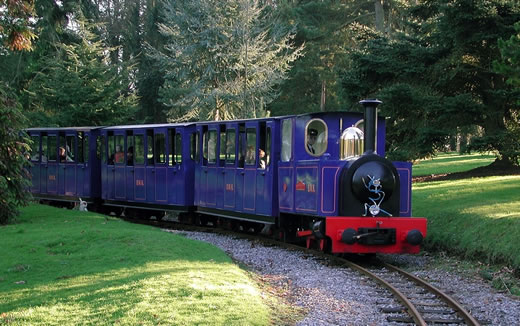 Indoor Play Zone (fully heated)
Children can have fun in comfort whatever the weather in our fully heated indoor play zone, featuring the items below. Adults are also well catered for with a separate area for their use with vending refreshments available.
Ball Pool
Slides
Climbing Frames
Inflatable Helter Skelter Slide (Available weekends and holidays only)
Roller Racers
Under 5's area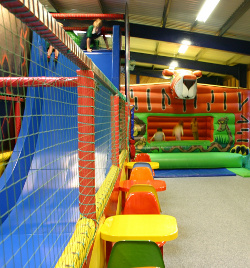 Outdoor Play Area
There is a host of varied outdoor activities for children of all ages to enjoy within the park. It is an adventure that never ends and can keep them occupied for many hours on many visits.
Bicton Woodland railway (small extra charge)
18 hole mini golf
Zip slide, slide tunnels and drop slide
Climbing Camp
Wooden train
Miniature thatched play cottages
Nuthatch nature trail
The trail is a particular favourite area for children, as well as adults, wandering through the back areas of the gardens amongst all the trees. Here you will see all sorts of wildlife, insects and birds that inhabit this undisturbed natural area. You can stop off at the enclosed hide and watch the natural behaviours of all sorts of animals going about their business, undetected.
The shop
Here you will find a host of varied and unusual gifts for friends and family. There is a vast array of products covering everything from home, garden, gift certificates and children's toys. So if you are looking for something different, browse the shop to see what is on offer.  Home delivery can be  provided and everything is also available to buy online.  Members can get 5% discount on all purchases bought in the shop at Bicton.
Dates for your diary in 2016
Fathers Day 19th June
With a Display of working model steam engines and radio controlled powerboats.
Thursday 21st July
Picnic Concert 60's, 70's & 80's music.
Thursday 18th August
Picnic Concert A Night of Queenperformed by The Bohemians, plus local band, K.
22nd – 31st October – Halloween
Halloween activities & witches coven.
If you pre-order your Bicton Gardens' fun day out entrance ticket online you can save 10% of the total price before you visit, or buy a friend a day out at Bicton as a gift for a special occasion. If you decide to become a member, the entrance fee will be deducted from the membership cost.