A day spent on Lundy Island during your holiday will be a day well spent.  Escape to this magical island by ferry from Ilfracombe or Bideford.  It is the ultimate get-away-from-it-all – incredible scenery all around you, nothing between you and the horizon, a place of immense peace and tranquillity.

Wild and dramatic on the western side, sheltered and gentle on the eastern, the entire island and the waters all around it are a haven for an incredible variety of wild flora and fauna. Watch for dolphins, different varieties of seals breeding in Lundy's sea caves, basking sharks and puffins.  The name 'Lundy' means 'Puffin' in Norse, but the real success story for sea birds is the Manx Shearwater whose numbers were dwindling.  They are ground nesting birds and rats were eating their eggs and chicks.  So, in 2002 a campaign was started to reduce the rat population.  It worked and there are now 1000s of shearwaters nesting on Lundy.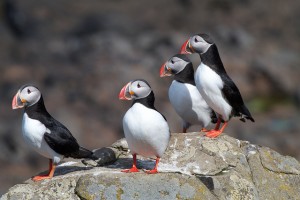 At different times of the year Lundy Island is awash with brilliant colour, as its 300 different types of flowering plants put on their show. The whole island is a Site of Special Scientific Interest (SSSI) and the seas around Lundy are England's only Marine Nature Reserve owing to the rich array of sea life and coral beds. Lundy has its own Conservation Warden who organises a variety of different events throughout the year to help visitors discover, enjoy and appreciate the wonderful wildlife on Lundy.
Ferries run from mid-March to October.  It's a good idea to check sailings in advance to ensure you get the maximum amount of time on the island but do make sure you enjoy the sail over too when you might see seals, dolphins and basking sharks.