Lovers of English literature will know that RD Blackmore's  19th century romantic novel Lorna Doone was set on Exmoor, in and around the villages of Oare and Malmsmead.  The valley below Oare is now widely known as Doone Valley and even if you are not familiar with the story you can't help but enjoy the stunning landscape and delightful villages.
If you'd like to walk through Doone Valley drive to Malmsmead, with its picturesque bridge and ford, then leave your car in the village car park and take a walk upriver along the Badgery Water. There are plenty of opportunities to picnic, as well as a tea room in Malmsmead for a welcome cuppa or cream tea on your return.
The little church at Oare was reputably the setting for Lorna Doone and John Ridd's marriage and is well worth a visit for its charm and box pews.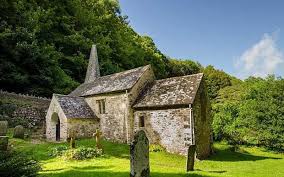 With its range of interesting independent shops and quality restaurants and pubs, the traditional village of Porlock is also enchanting.  Porlock Weir, 2 miles away, is a quaint little harbour with a unique charm; from here take a stunning walk through coastal woodland to the tiny hamlet of Culbone where you'll find England's smallest complete church.  It can only be reached on foot along the Coast Path. There are spectacular views across the Bristol Channel on a clear day and the route passes the romantic remnants of Lord Byron's daughter's gothic mansion, with tunnels carved out of the hillside by nineteenth-century Swiss mountaineers.  It really is a beautiful area to explore.
For more ideas and places to visit in 'Doone' country www.visit-exmoor.co.uk