Luke's chocolate cake with chocolate ganache.  Can be decorated according to the season!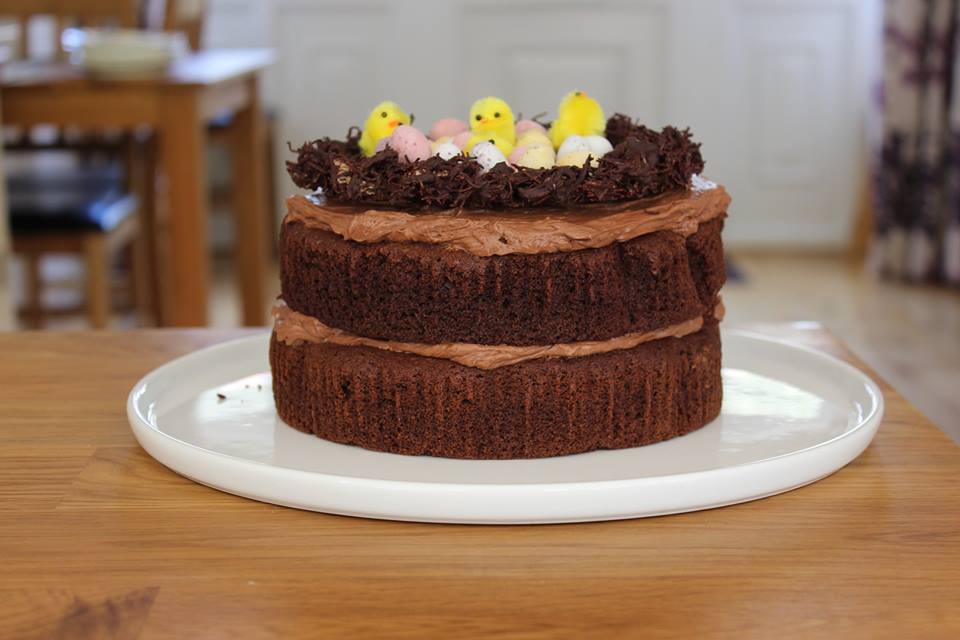 Ingredients:
225g Butter or baking margarine
225g Caster sugar
225g Self-raising flour
50g Cocoa powder
1 teaspoon baking powder
2 large duck eggs or 4 chicken eggs
Dash of milk if required
Method:
Cream the butter and sugar
Slowly add the beaten eggs
Fold in the sieved flour, baking powder and cocoa powder
Add a dash of milk if mix looks a little dry
Split the mixture between two lined cake sandwich tins and bake for 20-25 mins at gas mark 5 or 190c.  To test your cake is cooked it should spring back to the touch
Once cooked leave cakes in the tin on a wire rack to cool for 10 mins, then take out of the tin and leave to cool completely
To make the Ganache you will need:
100g Dark chocolate
100g Butter
100ml Cream
Heat the cream and butter until boiling, take off the heat, add the chocolate and leave to cool.
Spread some of the ganache on top of one of the cakes put the second cake on top, spread the remaining ganache on the top of the cake and around the sides.
TIPS
Take butter/margarine out of the fridge in advance so it's at room temperature
Use ready-made cake liners.  They are so quick and easy
You don't have to decorate the whole cake with ganache if you are pushed for time.  You can always just do the filling and dust the top with icing sugar
You can put marmalade as the filling and use the ganache for the topping – yummy chocolate orange!
We like to have this cake with clotted cream, or my sister likes it served floating in double cream!
Enjoy and don't think about your waistline!!
Martine