Tucked away in a deep wooded valley near Totnes, Berry Pomeroy Castle is the perfect romantic ruin with a colourful history of intrigue.
Within the 15th-century defences of the Pomeroy family castle, looms the dramatic ruined shell of its successor, the great Elizabethan mansion of the Seymours. Begun in around 1560 and ambitiously enlarged from around 1600, their mansion was intended to become the most spectacular house in Devon.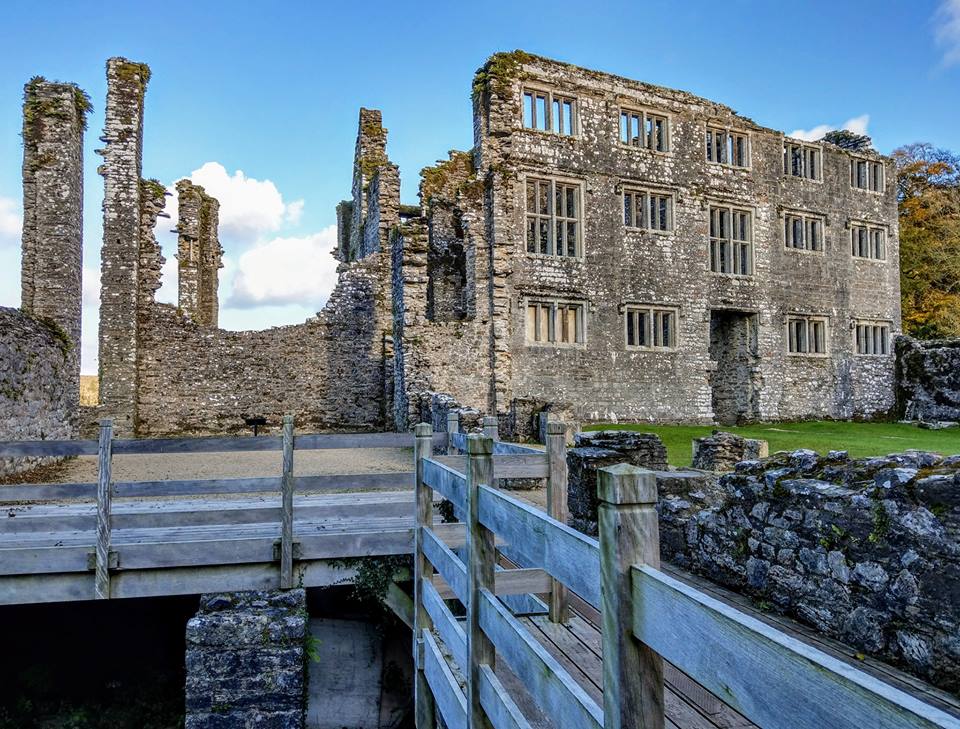 In the 16th century, Sir Edward, Lord Seymour, whose father had bought the castle, developed it into a fine house. With large windows offering stunning views from the four floors, it was typical of Elizabethan hunting lodges. Ornate mouldings over the windows can still be seen along with fragments of carving which now lie in the courtyard surrounded by the ruins of this once lavish mansion.  You can also still spot the remains of the arched loggia which lead from the main courtyard to the Great Hall. This was once the most magnificent room in the castle with an extravagant plaster ceiling, marble fireplace and wall tapestries. Now you can only imagine the grandeur of the room from the ruined walls and window openings.
Climb the steps to the first floor of the medieval gatehouse to the high roofed chamber and you will be rewarded with a beautiful 15th century wall painting. It depicts the adoration of the Magi – one of the earliest showing a black wise man in England. You can also see the Dominican altarpiece before crossing to the only medieval wall walk to survive almost to its original height.
Never completed, and abandoned by 1700, the house became the focus of blood-curdling ghost stories, recounted in the audio tour.
The location of the castle makes it ideal for walkers, who can explore the beautiful grounds and woodland views. Follow the John Musgrave Trail to enjoy beautiful views up to the castle from the lake. It's a great place to spot wildlife and birds as well as wild flowers and dogs on leads are welcome too on the woodland walks.
In the Castle Café you can enjoy a light lunch, home-made cake or restorative cup of tea.   It's open daily 10am – 5pm from June-October, then on Saturdays and Sundays from November-March.   Enquiries: 01803 849473.