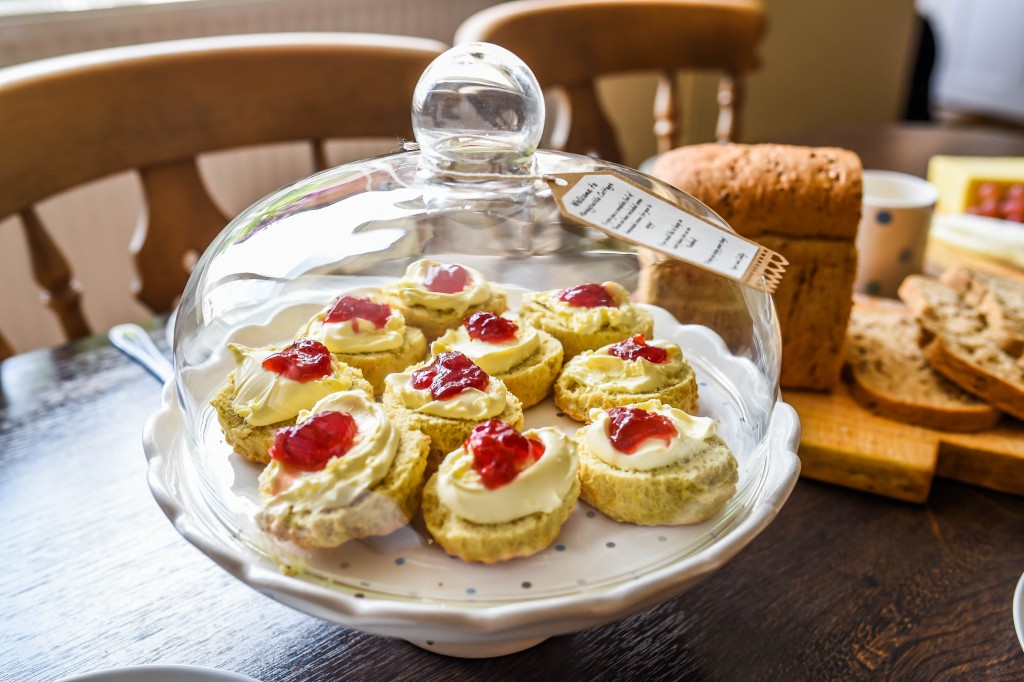 When my guests arrive after a stressful journey, what cheers them up the most is the surprise of a home-baked cream tea that I have prepared for them.  Of course I tell them which way round they have to put their cream and jam – imagine they're using the cream instead of butter and then put the jam on the top of that – as I don't want them doing it the Cornish way!  I am often asked for my recipe, so here it is:
Devon Scones
Ingredients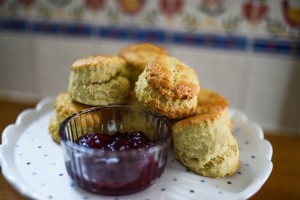 450g (1 lb) self-raising flour, plus a little extra to dust
4 tsp baking powder
90g (3 oz) butter at room temperature
50g (2oz) caster sugar
2 eggs
300ml (10 fl oz) milk
(Makes about 14 scones)
Preheat the oven to 200*C (180*C fan/400*F/Gas 6). Put the flour, baking powder and butter into a food processor and mix until the mixture resembles breadcrumbs.  Next add the sugar and mix gently.
Break the egg into a measuring jug and beat with a fork, then pour in enough of the milk to make just over 300ml (10 fl oz) in the measuring jug. Beat the egg and milk mixture together.
Switch the processor on and gradually pour in the milk and egg mixture, leaving a couple of tablespoons in the jug for glazing. Mix until combined – the mixture should be slightly sticky.
Transfer the dough to a lightly floured work surface and knead until smooth, then roll it out until it is 1.5cm thick. Using a 7cm scone cutter, cut out as many scones as you can.  Re-roll the dough and cut out some more scones until it is all used up.
Put the scones on a sheet of baking paper and brush the tops with the remaining milk and egg mixture so they turn golden in the oven.
Bake for 10-15 minutes until they are lightly golden. I always cook mine in the Aga for that perfect country taste but if you haven't got one they are also successful in an electric or gas oven at the same temperatures.
Sally