29 July – 5 August 2016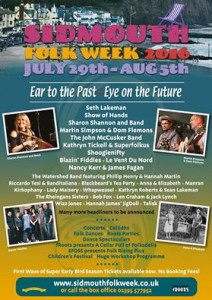 Sidmouth FolkWeek is a unique week-long celebration of music, dance and song which takes place in the charming East Devon regency coastal resort.  It's an absolute must in every festival goer's annual diary.  There has been a folk festival in Sidmouth in the first week of August every year since 1955, attracting tens of thousands of visitors to over 700 diverse events, with broad 'something for everyone' appeal.  With an ear to the past and an eye on the future, the festival features established stars and emerging talent, major concerts and small intimate sessions, ceilidhs, folk dancing and lively roots parties, storytelling, fun family entertainment and youth-centred sessions, hands-on workshops and spectacular dance displays, the best in South West crafts and the tastiest of local food and drink.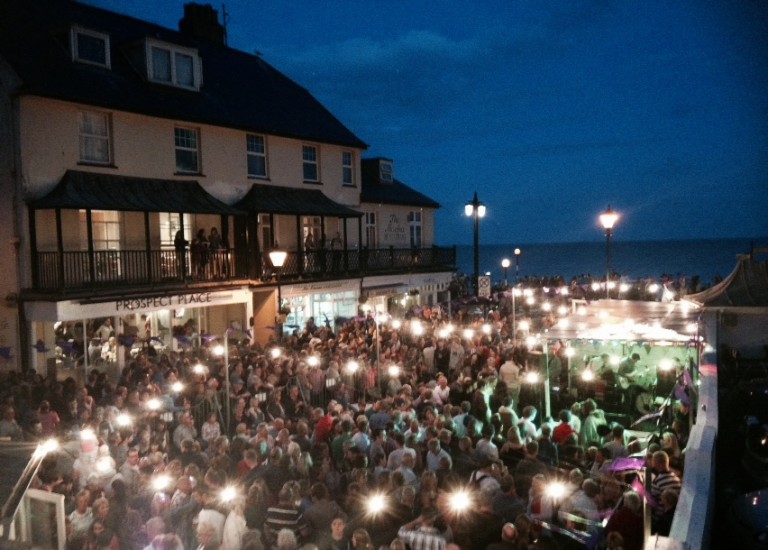 The town's streets and venues burst with festive atmosphere and colour as holidaymakers and festival goers join together in the friendliest, music-based holiday of the summer.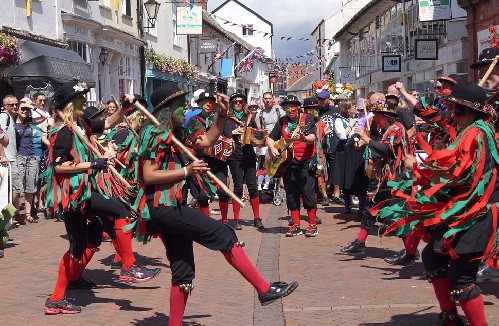 Children's Activities
Blackmore Gardens is the main hub for family-based fun throughout the week, offering opportunities for all ages to get involved.  It's a colourful and welcoming place to spread out your picnic blanket and enjoy the Young Performers Showcases, Strolling Performers and surprise pop up events as well as all the fantastic programmed activities.  There are also already some fabulous evening Family Shows in place for 2016.  Go to:
http://www.sidmouthfolkweek.co.uk/uploads/2016%20CHILDRENS%20Programme%20final.pdf  for more details.  From Saturday to Thursday there will be special shows for families including a hilarious Clown Show with SPANGLES THE CLOWN; the truly magical story of the Three Billy Pigs – an enchanting puppet show presented by NOISY OYSTER THEATRE. The tale of Mary Anning, who discovered the world's first ever fossil of an Ichthyosaurus, is told by ONE MOMENT IN TIME THEATRE in Mary's Monsters with songs, puppets and objects from the natural world. Don't forget the Magical Evening Ceilidh with the SIDMOUTH SEASIDE STOMPERS CEILIDH BAND (Don't forget to bring your instruments along to join in the Magical Evening Ceilidh!) in Blackmore Gardens Marquee, including a whole load of special surprises to make the event something to really remember.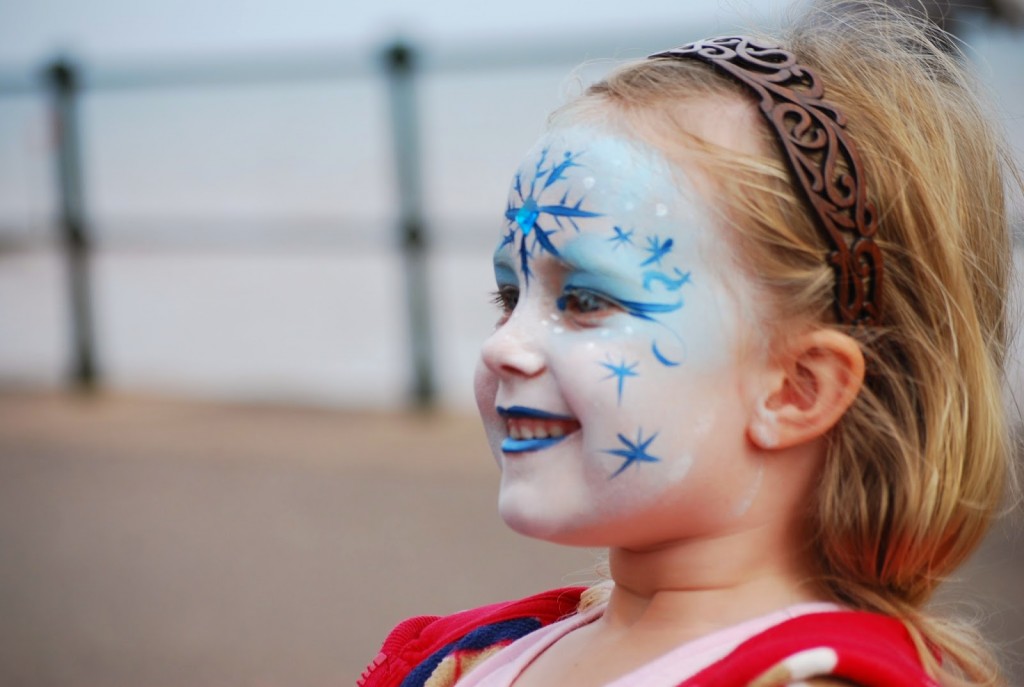 A wide range of venues gives plenty of scope to plan a host of fun activities in 2016, including for children over 8 years; the ever-popular Craft Carousel where youngsters have the opportunity to work in small groups to produce a special craft item to take home. For younger children there will be special sessions for both 6 –7 year olds and also 5 years and under, including Crazy Crafts, Action Songs, Fun Percussion, Mini Crafts, Messy Crafts, and, new this year, Yoga, plus many more noisy and quiet sessions.
Some amazingly talented young performers apply each year to perform in the special Young Performers Showcases featured on The Garden Stage in Blackmore Gardens. Further details on how to apply to become one of the featured 2016 Garden Stage Young Performers are published on the website.
For your youngsters to get the very best out of FolkWeek, the most cost effective way is to buy them a Children's Season ticket which gives them priority access to all Children's Festival events including evening family shows (space permitting).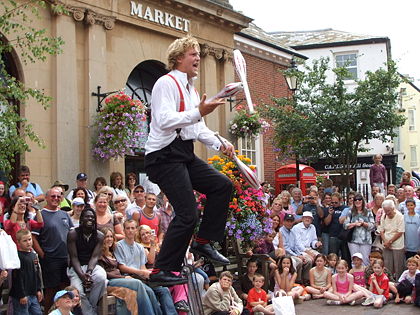 A selection of what's on offer during the festival:
Thursday 28th July
PAM AYRES (PRE-FESTIVAL SPECIAL)
STEELEYE SPAN plus THE DRYSTONES (PRE–FESTIVAL SPECIAL)
Friday 29th July
FISHERMAN'S FRIENDS plus JIM CAUSLEY (PRE-FESTIVAL SPECIAL)
THE JOHN McCUSKER BAND, BLACKBEARD'S TEA PARTY, JEZ LOWE.
KIRKOPHANY, MISHAPED PEARLS, PHOENIX DANCE BAND,
SHEILA KAY ADAMS, DARIUSH KANANI, FACE FURNITURE
Saturday 30th July
SHARON SHANNON AND BAND, SHOOGLENIFTY, JOHN KIRKPATRICK,
PETE COE, JEZ LOWE, WHAPWEASEL, BOB FOX, LEN GRAHAM & JACK LYNCH,
THE DROLE, KEVIN & ELLEN MITCHELL, MICK RYAN & PAUL DOWNES, PHOENIX DANCE BAND, NIAMH BOADLE, MARYEAGLE
Sunday 31st July
SHOW OF HANDS WITH MIRANDA SYKES, JAMIE SMITH'S MABON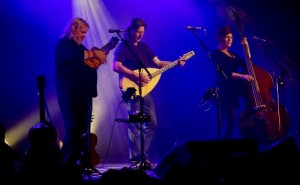 KATHYRN ROBERTS & SEAN LAKEMAN, WHAPWEASEL,
BOB FOX, JEZ LOWE, KHIYO, THREE CANE WHALE. PETE COE,
DEAD RAT ORCHESTRA, EFFRA, WINDY GYLE BAND, KIRSTY MERRYN,
RACKER DONNELLY
Monday 1st August
BLAZIN' FIDDLES, NANCY KERR & JAMES FAGAN, MELROSE QUARTET
JAMIE SMITH'S MABON, ANNA & ELIZABETH, WIZZ JONES,
BRIAN PETERS, HANNAH SANDERS, SHEILA KAY ADAMS, JIM CAUSLEY TRIO
MONSTER CEILIDH BAND, GADARENE, URBAN FOLK THEORY
LUCY FARRELL, ROBYN STAPLETON, PETA WEBB AND KEN HALL
MATTHEW CRAMPTON & THE LONDON LUBBERS
VICKI SWAN & JONNY DYER, BLACKTHORN BAND
Tuesday 2nd August
MARTIN SIMPSON & DOM FLEMONS, LE VENT DU NORD, MANRAN
ANNA & ELIZABETH, NANCY KERR & JAMES FAGAN, FARA
MELROSE QUARTET, COCK & BULL BAND, LADY MAISERY, BRIAN PETERS,
TOM & BEN PALEY, JENNA REID, RHONA DALLING, CIARAN ALGAR, DIPPER MALKIN
PETA WEBB AND KEN HALL, SHEILA KAY ADAMS, KITTY MACFARLANE
Wednesday 3rd August
SETH LAKEMAN, KATHRYN TICKELL & SUPERFOLKUS, OYSTERS 3
ROBIN DRANSFIELD, ANNA & ELIZABETH, TRIO DHOORE, LADY MAISERY,
TYMON DOGG, COCK & BULL BAND, HOT VULTURES, SAM KELLY TRIO, THE CLAQUE
CIARAN ALGAR, PETE WOOD, TOM & BEN PALEY, THE ESKIES TRED, VICKY SWAN & JONNY DYER
Thursday 4th August
JON BODEN, LYNCHED, RICCARDO TESI & BANDITALIANA, ROBIN DRANSFIELD, STICK IN THE WHEEL, THE RHEINGANS SISTERS, JOHN KIRKPATRICK, TRIO DHOORE, MOLTENAMBA, HANNAH JAMES' JIGDOLL, MAD DOG McREA, WILL POUND CEILIDH BAND, MAGGIE HOLLAND, TALISK, TOM & BEN PALEY, ALMA, TOBIAS BEN JACOB ,TRED
Friday 5th August
THE YOUNG' UNS, THE WATERSHED BAND FEATURING PHILLIP HENRY & HANNAH MARTIN, JIM CAUSLEY, PETE COE, LEN GRAHAM & JACK LYNCH, MOLTENAMBA, BANTER, ENGLISH CONTRA DANCE BAND, TALISK, NINEBARROW, NICK WYKE & BECKI DRISCOLL, PETE WOOD, THE BARBER SISTERS, WILL DUKE, CAROL ANDERSON, RACKER DONNELLY, WINDBEATEN, THORN & ROSES
Some of these artists, and many more, are performing at the festival all week. The above list features just some of the performances.  See the festival programme for the full schedule at: http://www.sidmouthfolkweek.co.uk/uploads/full%20prog%20final%202016%20med-res2.pdf
Festival Bus Service
The regular 'Festival' bus service is being provided by the same popular Hampton Grays team of the last few years. From Friday 29th July throughout the Festival, the bus service will run as follows:
Sidmouth Seafront to Bulverton Campsite (Please note that the pick-up point is on the Esplanade slightly West of the Bedford Hotel):The first bus will be 08.30 then every 20 minutes(approx.) until 18.50. Then from 19.10 the buses will leave every 15 minutes (approx) until the last bus at 02.25 am.
For Wednesday 27th July and Thursday 28th July:
A cut-down service will operate in both directions, starting from the Bulverton Campsite on Wednesday 27th July, from 14:00; and on Thursday 28th July, from 08:20. Last bus back from the seafront on these two days is midnight.
Friday 29th July to Friday 5th August
Town Circular Route
The first bus will be 0815hrs and the service will run every 45mins approximately. The route will be as follows:
Campsite – Seafront – All Saints Road – Radway – Sidmouth Primary School – Woolbrook – Stowford – Campsite.
This route provides for venues: All Saints Church, Sidmouth Primary School (Vicarage Road) and Stowford Rise Community Centre. This service will stop at 2300hrs.
Bus Tickets
Week and Day Tickets available from the Festival Box Office and Festival Campsite:
For the Week (27th July – 5th Aug):£32 (6-17s £16, 5 and under free).
For the Day: £5 (6-17s £3, 5 and under free).
Single journey: £2 payable on bus.
Access for people with disabilities
The Festival organisers try to make venues as accommodating as possible to all people. Wheelchair access is available at most venues and our volunteer stewards are always ready to assist with any special requirements. If special requirements exist, such as the positioning of a wheelchair, it is the ticket holder's responsibility to contact the venue to make sure that their requirements are known. Venue stewards will do their best to accommodate all such requests.  Go to: https://sidmouthfolkfestival.co.uk/accessibility/ for more information.