Entertain your children over Easter:
The story of Lawrence Castle (Children's Workshop)
Have you spotted the big white castle from the viewpoint on the Discovery Trail at Haldon Forest?  Why not learn a little bit about its colourful history and its links to India?
Come rain or shine, have fun discovering colourful local history through art, stories, crafts and games.
The age guide for this event is between 6-11 years (children need to be accompanied).
This event will take place in the Ridge Studio's and is being hosted by the custodians of Lawrence Castle.
Booking is essential so please e-mail carolesmart2@aol.com
When is the event?
Tuesday 11 April 2017
What time is it on?
2.30pm
Who is this for?
6-11 years (must be accompanied)
How much?
£5
Where to meet?
The Ridge Studio's (next to the café), Haldon Forest, EX6 7XR
Dogs Allowed:
No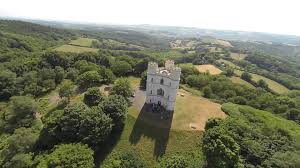 Information for the adults!…………
The Haldon Belvedere (also known as Lawrence Castle) was built in 1788 at the height of the Romantic Period of the Georgian age.  It's a much loved, iconic landmark sitting high in the hills of Haldon Forest above Exeter, with breath-taking panoramic views over the Devon countryside.  Even in pre-history the high piece of land on which the Belvedere sits was seen to be important. 5000 years ago the earliest Neolithic farmers occupied the ridge and excavations which took place in the 1930's found pieces of very early pottery.  Worked flints were also discovered. The ridge continued to be occupied during the Bronze and Iron Ages and the Romans left trackways over the hills.  During the Civil War the Haldon Hills provided a natural barrier making troop movements difficult when the Parliamentarians tried to stamp their authority over what was mainly a Royalist area.  Following this torrid period a time of relative peace saw the laws of the land change and the growth of the great estates with the Enclosure Act passed by Parliament from 1750 onwards.
The Tower is open on Sundays from 2pm to 5pm from 16th April to 24th September 2017.  The grounds are open daily, but the upper lawn may be closed and clearly signed as such.  It is also open on Bank Holiday Mondays.  It can also be booked as a unique and spectacular venue for weddings and civil partnerships.