The Easter egg hunts have always been popular with our holiday cottage guests at Little Comfort Farm and we hold one each week throughout the Easter holidays so everyone staying on the farm gets a go. Clues are hidden around the farm, there's a fiendish anagram to solve and of course plenty of chocolate eggs at the end of it.  Chocolate is so much a part of Easter for many people and for a serious chocolate hit, our brownies are always right on the money so we thought we'd share the recipe with you…
Brownies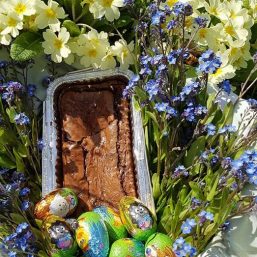 170g dark Chocolate
115g Butter
2 Beaten eggs
55g Plain Flour
1 level teaspoon baking powder
¼ tsp salt and a few drops of Vanilla extract
115g  Muscovado or soft brown sugar
55g   Granulated sugar
115g chopped nuts, cherries, raisins, dried fruit of your choice.
Method
Preheat oven to gas 4 ,175C, 350F
Lightly Grease and line 20cms square baking tin
In a bowl over a pan of hot water, melt the butter and the chocolate. Take care not to allow the bowl to touch the simmering water. When the chocolate has melted take the bowl off the pan and beat until smooth.
In another bowl, whisk the eggs and the sugar until they are light and fluffy. Spoon in the chocolate mixture and fold in the flour, salt and baking powder. Finally stir in the nuts and dried fruits of your choice and the vanilla.
Spread into prepared tin and bake for 30 minutes approx or until a dull crust is formed on top. Allow to cool, then cut into squares or fingers and store in an airtight container.
(Brownies are supposed to be soft in the middle so please don't think that they are not cooked enough, the proof is in the tasting!)
The credit for the recipe goes to Mary Bailey who wrote a lovely book called 'Granny Mary's Baking Secrets' filled withe traditional recipes from her home in the Peak District where she is famous for her contributions to the cricket teas.