The beautiful village of Widecombe-in-the-Moor is a well-known Dartmoor tourist attraction, welcoming visitors at all times of the year.  Widecombe lies in a valley created by the East Webbern River.  The name Widecombe is derived from 'Withy-combe' – meaning 'Willow Valley'.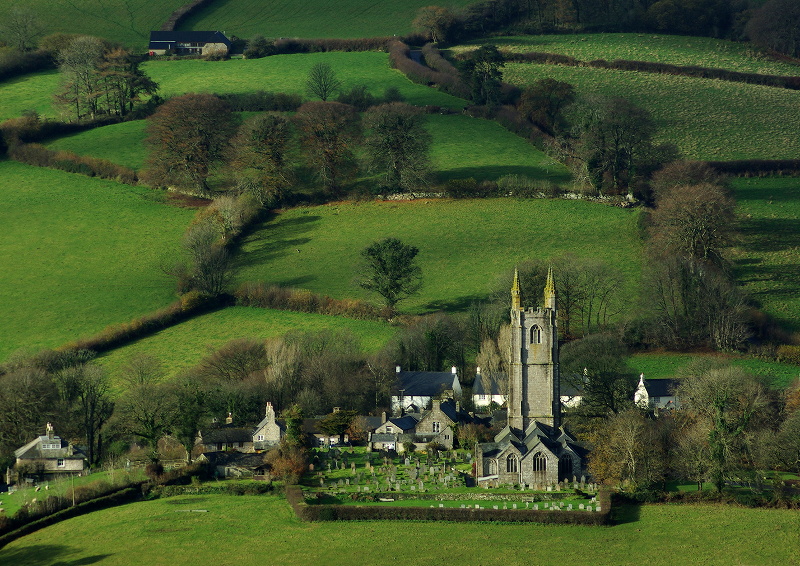 Your first glimpses of the village of Widecombe-in-the-Moor is of a picturesque little hamlet that nestles snuggly between the rolling  green hills of Devon farmland.  It is set off by a spectacular backdrop of granite tors and moorland.  The village has a coach and car park as well as the usual collection of craft shops and tea rooms, serving refreshments.
At the centre of the village is a triangular shaped green, with a collection of mature trees. The trees have seating fixed around their trunks, allowing you to sit and relax whilst you enjoy the stunning views of the church and the moorland vista.
The church of St Pancras is aptly known as the 'Cathedral of the Moors'.  The spire is a well-known local landmark, visible for many miles.  The church was originally built in the 14th century and enlarged over the following two centuries, partly on the proceeds of the local tin mining trade.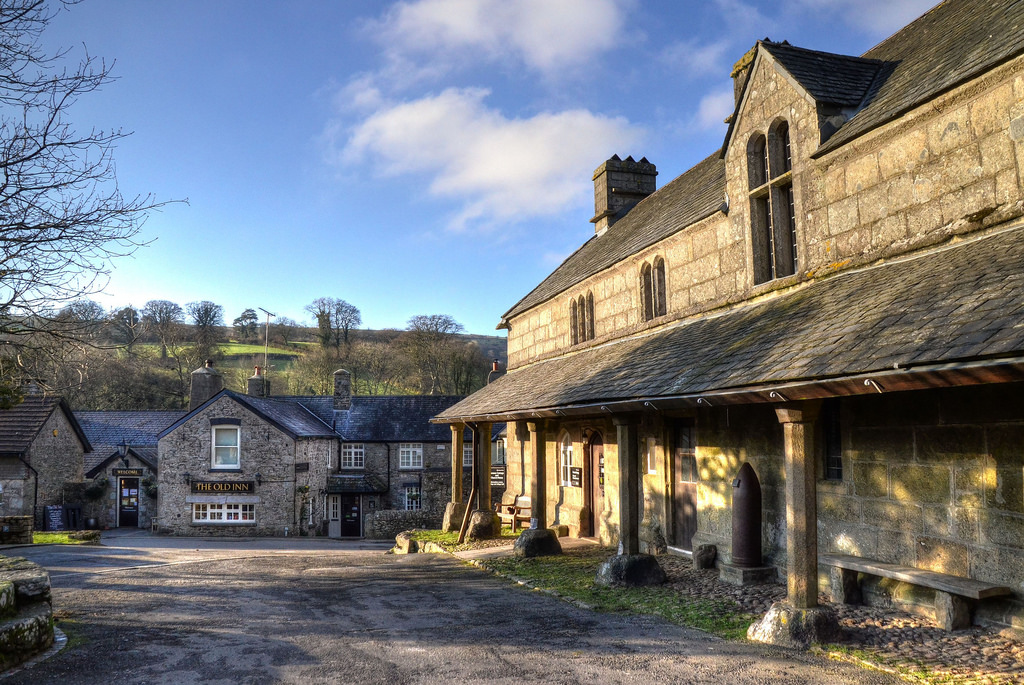 Next to the churchyard is Church House, built in 1537 as a brew house for the production of church ales.  Church House is now managed by the National Trust, having also been a school house and alms house at various times in its history.  The old Sexton's cottage is also part of the complex, currently being utilised as a National Trust and Dartmoor National Park Information Centre and shop.
Widecombe Fair
The village of Widecombe in the Moor is world-famous for its fair, held annually on the second Tuesday in September.  The Fair gave rise to the well-known folksong 'Widecombe Fair' and the characters of 'Uncle Tom Cobley and All'.  The village fair probably began as a simple market, but it has grown over the years into a local institution, with gymkhana, and pony shows, demonstrations, competitions, sheep and cattle shows, numerous sideshows, races and refreshments.  The words for the folk song were first published in 1880 by the vicar of a nearby parish, after he heard them sung by an old countryman.