Bob Crooks trained at West Surrey College of Art and Design.  He worked at the celebrated First Glass in London before deciding to relocate to Devon in 2003.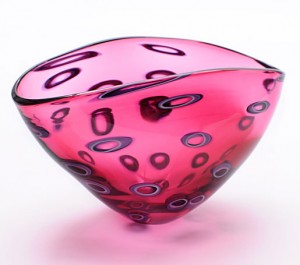 Bob is one of Britain's leading glassmakers, renowned for its high quality and the skillfully executed dynamic forms and surfaces.  He is continuously thinking of original and challenging ideas and each piece is designed, handmade and finished by Bob, himself.   No moulds are used to create the forms or surfaces achieved.  The pieces are inspired by geometry, architecture, the natural and man-made worlds we live in, as well as the qualities and capabilities of the glass itself.   Bob exploits the many properties of the material through refraction or reflection; sharpness or softness, transparency or opacity, working with its fluidity and 'freezing' it as the desired form is realised.  Within the range of production work made, Bob has consciously developed work that is, because of the nature of different applications, a one-off.   It is not possible to make two identical pieces.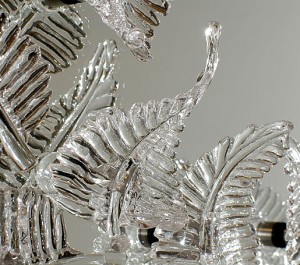 These unique pieces have now escalated in size, creating a more dramatic statement.  Although large scale, closer inspection reveals intricacies which demand one's attention.  The resultant objects demonstrate a masterly love of glass combined with attention to fine detail.
His work has been exhibited internationally and in noted exhibitions in Italy, China, Scandinavia, Australia and the USA and is included in numerous international collections.  His dynamic, contemporary decanters, finely balanced bowls and joyful perfume bottles are works of the highest order.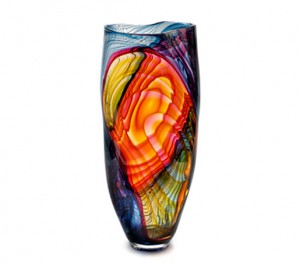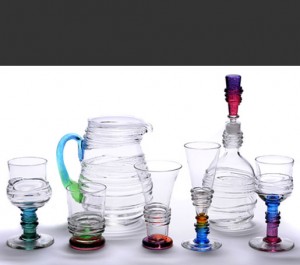 You can find Bob Crooks First Glass studio at Thelbridge Cross Farm, Thelbridge, Crediton, Devon, EX17 4SH.
Call 01884-860037 or email sales@bobcrooks.com for opening times and information on any upcoming exhibitions.